Model Tramway Display
By John Prentice
Dioramas
Hennessy Road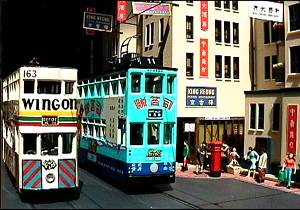 This small diorama in OO scale, is styled on the Hong Kong street as it was in 1990.
The white tram number 163, advertising the Wing On department store, is a hand painted and modified version of the Tramalan kit. It is an example of the Hong Kong tram in its 1980s style.
The other tram in an all over advertising livery, is made by Peak Horse Models in Hong Kong. This shows how the trams looked after new bodies were fitted around 1990, the main difference being the placing of the resistance box on the roof.

Blackfriars Road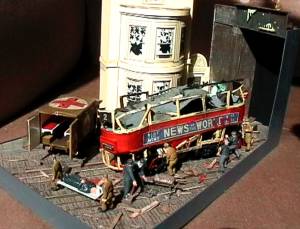 This diorama by John Prentice and Ron Howes was inspired by the photographs of an incident in the morning rush-hour of October 25th 1940, when a bomb passed through a railway bridge and destroyed two E/1 trams.
The only part of the diorama specially bought for it was the Airfix ambulance. Everything else came out of the "odds and ends" box. The tram was made by John. It largely consists of the mortal remains of a Tower E/1 and a Keil Kraft West Ham 4-wheeler (the latter has now provided parts for no less than five different models!)
The house formerly stood on Ron's Garratt Green model tramway before the tube station was built, and the rest of the scenery is made from a Kellogg's Corn Flakes box.

Lea Bridge Road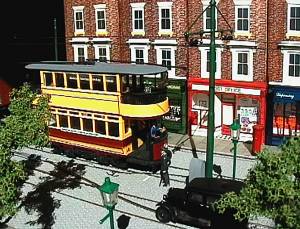 In Central London the authorities insisted that there should be no unsightly overhead wires used for the current supply to the electric trams. The London County Council therefore used a pickup from two conductor rails which were housed in a duct beneath the road surface, connection being made by a removable device known as a plough.
In the outer suburbs the much cheaper overhead wire and trolley pole method was allowed, so at the point where the two met, there was a change point (or change pit) where the plough could be removed or inserted, and the trolley pole would be raised or lowered.
This model shows such a change point and is loosely based on the one that was in Lea Bridge Road, Leyton, as it was circa 1929.

Snow Problem
The winter of 1949/50 in a South London street, is depicted by this small diorama in OO scale.
Keeping the tracks clear of snow is London Transport (formerly L.C.C.) snowbroom number 020. Trams of this type were rebuilt from "B" class tramcars in 1927, this particular one being originally car 182. The model was scratch built, but using parts left over from other kits.
The street is laid with conduit tram track, but above are the four wires for trolleybus current collection. These also are in need of some maintenance, and a tower wagon is in place for an inspection, this vehicle having been rebuilt from an STL bus. The model was modified from a Corgi tower wagon (not visible in the photo).
Snow or no snow, the beer must be delivered, this being done by a Scammell three wheel tractor. The model was from an Airfix kit (not visible in the photo).

All Aboard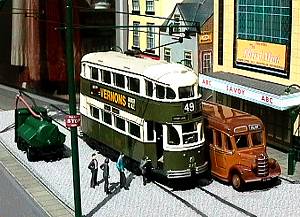 This diorama in OO scale represents a provincial scene in 1949. It shows how passengers boarding the tram had to stand in the roadway, unlike modern systems where boarding islands, reserved tracks and pedestrian areas prevail.
The tram is a Liverpool "Baby Grand", one of a class of 100 cars built between 1937 and 1942. This example still retains its pre-war livery.
Also to be seen is a 1949 Bedford single deck bus of the OB type, very common in this period, and a Karrier Bantam Gully Emptier of 1946.
At the Cinema the new release is Orson Welles in Carol Reed's production of "The Third Man" by Graham Greene, which also starred Joseph Cotten, Valli and Trevor Howard.

Narrow Gauge Steam
This diorama in H0e scale (3.5mm to 1 foot - 9mm gauge track), represents a 760mm narrow gauge steam railway.
The scene is set in Austria or Switzerland with a small train running through low alpine pastures passing by a dairy farm. A group of walkers can be seen in the foreground.
Many secondary railways of this type were built in continental Europe, those in France and Belgium often running by the roadside and being classified as steam tramways.
Some 760mm gauge lines have survived such as at Mariazell in Austria and Waldenburg in Switzerland, both now electrified, and a regular preserved steam train service runs on the Austrian Zillertalbahn.

Industrial Tramscape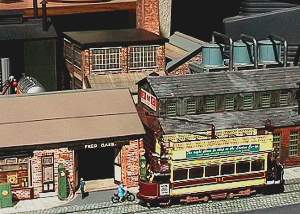 This diorama in the British 00 scale (4mm to 1 foot).
The scene not to a specific date or location, but is loosely based on East London in around 1930. In a way it is timeless and could be in any of the British tramway cities throughout the tramway era.
Most model tramways tend to show the city streets with shops, houses etc., but this diorama focuses on the industrial areas, with the tram passing by factories. These works are also served by a private narrow gauge steam railway (009 scale).
The model tram is a Walthamstow (ex-L.U.T. W type) car.

Eisenfels Straßenbahn
A working diorama or small layout in N gauge. For details see Working Displays.

Terminus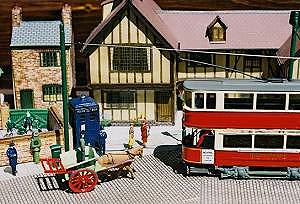 Not all tramways run in busy city streets and some that did had an outer terminus that was in the country. This little diorama in OO scale represents such a tramway terminus at the end of a route from town.
It has a country style residence, a pub and at the end a school building with kids in the playground. Behind the school can be seen the first field with sheep in it.
An inspector checks the time of the departing tram, and a Bundy clock is available for the crew to record their duties. The tram is a London Transport ex-Ilford car.
A police telephone box is also there, or could it be a Tardis with Dr. Who hiding somewhere?




Return to Model Tramway Displays
© Photographs Copyright John R. Prentice 1999-2010