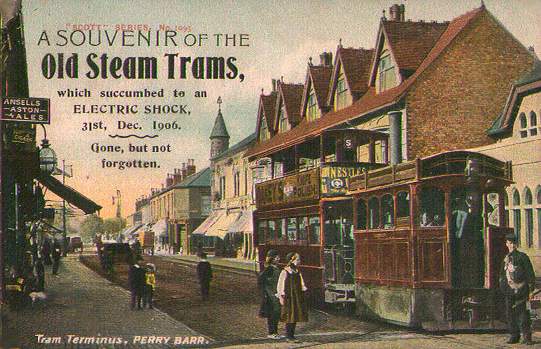 Birmingham Steam Tram & Trailer, Perry Barr
This postcard view, showing Perry Barr tram terminus, was produced by Scott Russell and Co. of Birmingham and is design 1093 in the "Scott Series". The overprinted commemorative caption wittily tells us that the old steam trams succumbed to an electric shock on 31st December 1906. Our card had been posted in January 1907.
In addition to Perry Barr, the steam trams from the centre of Birmingham served Witton, Gravelly Hill, Lozells, Moseley, Sparkbrook, Small Heath, Saltley Road and Dudley via Smethwick, routes that had opened between 1882 and 1886.
In the final years these steam tram routes were run by the City of Birmingham Tramways Company Limited which had taken over the Birmingham Central Tramways Co. Ltd. in 1896, and from 1903 also operated the services of the former Birmingham and Aston Tramways Co. Ltd. As the leases of the City of Birmingham Company's routes ran out (mostly on 31st December 1906 when the last steam tram ran), they were taken over by Birmingham Corporation who immediately electrified the system.
In the postcard view is a "standard" type tram engine by Kitson & Company of Leeds, pulling a trailer built by the Falcon Engine and Car Works Ltd of Loughborough. City of Birmingham Tramways rolling stock was acquired from Birmingham Central, Birmingham and Aston, and also the Birmingham and Midland Tramways Company. In total there were some 97 locomotives by Kitson and 130 double deck trailers by various manufacturers, mostly Falcon. The livery was crimson (sage green before 1896), and the gauge was 3ft. 6in.
The former Witton steam tram depot for a while housed the Aston Manor Road Transport Museum, now sadly closed, which contained among other things a display from the Tramway & Light Railway Society's National Model Tram Collection.

Go to Postcard Of The Month Index




Reload Home if you linked directly to this page



Postcard of the Month is created by John R. Prentice © Copyright 2000