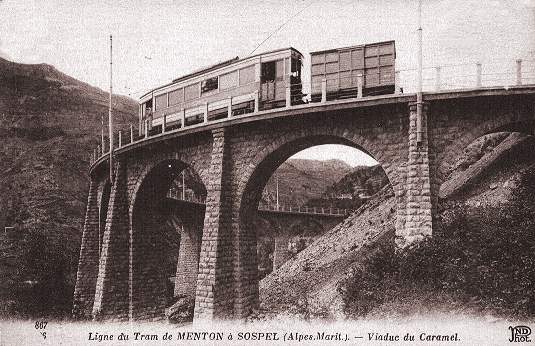 Menton-Sospel (T.N.L.), Caramel Viaduct
In addition to its scenic coastal tramway (see postcard), the Compagnie des Tramways de Nice et du Littoral (T.N.L.) ran a superb 17km metre gauge line from Menton northwards to Sospel in the hills of the Alpes-Maritimes. Our card is number 867 in the "N.D.Phot" series of Neurdein et Cie of Paris. It dates from around 1914 and shows the viaduct at Caramel, the engineering highlight of the route, with one of the bogie trams pulling a goods van.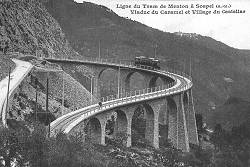 Leaving Menton and Villa Caserta, the tramway climbed the Carei valley 5km to Monti where it crossed its first viaduct, a single arch bridge 75 metres long and 24 metres high. It continued to climb gradients at around 6%, crossing the Carei on a small curved viaduct before reaching the Caramel Viaduct. This was a 120 metre long structure of 11 stone arches, curving back on itself in an omega shape. The line continued to climb to the town of Castillon, the summit level at 565 metres above sea level. From there it passed through a col using a 763 metre long tunnel and then descended on a 4% gradient the final 5km to Sospel. The line opened on 15th April 1912.
Initially, coastal 4-wheel cars of class T2 and light open trailer 301 were used but from the autumn of 1912, these were replaced by four bogie cars of the 201 to 216 series from Thomson-Houston. These were cars 213-216 and were specially equipped to deal with the steep gradients. They were mounted on two Brill 27GE bogies of 1.22 metres wheelbase, 5.44 metre apart. Each car had four powerful TH524 60 h.p. motors and B226 controllers which had a separate handle giving provision for electromagnetic braking. They had hand operated wheel brakes for parking and Lipkowski air brakes for normal service stops. The bodies were 11.9 metres long (over platforms) with six side windows, having first and second class saloons. They carried 55 passengers using "two and one" transverse seating, 12 in 1st. class, 24 in 2nd. class with 18 standing. They were painted deep golden yellow with white lower rocker panels. From 1925, the T.N.L. livery became green and cream.
Four trailers were used on the Sospel route, often in trains of a bogie motor car with an open trailer and a closed trailer, such a train carrying 141 passengers. 506 and 507 were closed trailers which seated 16 plus 32 standing. 808 and 809 were open sided crossbench cars which seated 32 plus 6 standing. All these trailers were fitted with electromagnetic track brakes which were rheostatically supplied from the bogie car's controller and which were applied during all descents.
Goods trains were a feature of the line from the start, but there was a serious runaway of a goods service at Monti on 12th September 1912 which destroyed tractor 4 and killed its two crewmen. From 16th June 1913 a new service was started with two tractors 6, 7 (and 13 added in 1914) in the form of motorised box cars (known as fourgons in French), which were fitted with the same powerful equipment and brakes as the bogie passenger cars, and which pulled a variety of goods wagons.
In 1914, four passenger trips and three or four goods trips were made on the line each day, but like the rest of the T.N.L. network traffic fell off in the 1920s. During the building of the P.L.M. main line railway from Nice to Breil via Sospel, the line had a boost of goods traffic carrying many construction materials, but once complete in 1928 there was huge drop in traffic. As with the coastal routes the end had come and the line closed on 23rd March 1931.
The small view of the Caramel viaduct with a 4-wheel car dates from 1912 and is from a card by Giletta Frères of Nice.

Go to Postcard Of The Month Index




Reload Home if you linked directly to this page



Postcard of the Month is created by John R. Prentice © Copyright 2003