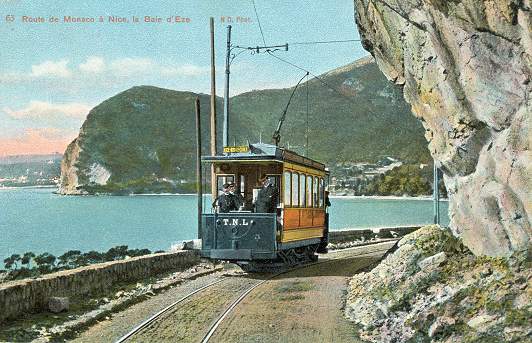 Nice-Menton (T.N.L.) Car 3, Baie d'Eze
This tramway route was probably one of the most attractive in Europe, being built to serve the tourist trade of the French Côte d'Azure. Our card is at Baie d'Eze on the route from Nice eastwards to Monaco and Menton along the Corniche, a favourite location for postcard photographers. It shows car 3 of the Compagnie des Tramways de Nice et du Littoral (T.N.L.). It is card number 63 (later produced as 803) in the "N.D.Phot" series of Neurdein et Cie of Paris. Our later copy was posted from Menton on 25th April 1915, but the photograph dates from about 1906.
The "Littoral" line began in Nice at the Place Messéna, then leaving the town system and joining the lower Corniche road it first climbed and then descended to the towns of Villefranche and Beaulieu. From there it closely followed the coast to Cap Roux, Eze, Cap d'Ail and on to the principality of Monaco. This last section was very winding and passed via several short tunnels through rock outcrops. The town of Monte-Carlo initially had its own tramway (see postcard) which was run with stud contact current collection, but the studs were replaced by overhead wires in 1903 and operation of the town system was taken over by the T.N.L. in 1908. Climbing from the principality, the tramway then continued along the coast towards Cap Martin, south through pine forests the length of the cape and doubling back on itself in a curved tunnel 105 metres long. Descending to Menton, it terminated at Garavan, close to the Italian border.
The T.N.L., in addition to this coastal route, operated a large system in and around the town of Nice, with a second coastal line running west to Cagnes and Cap d'Antibes (using six centre entrance 4-wheel cars). Replacing standard gauge horse trams in the town, the first electric trams ran on the route to Cimiez which opened on 13th January 1900. The electric tramways were metre gauge using overhead wire current collection, but in Avenue de la Gare and Place Messéna the conduit system was used so as not to obstruct tall carnival floats. The coastal line was opened in stages between 1900 and 1903. In 1912, the last route to open (worked by powerful bogie cars) was a steep and scenic line from Menton to Sospel, which had a superb curved viaduct at Caramel (see postcard).
An initial batch of 100 trams was ordered for the network from Thomson-Houston in 1898, 30 for the coastal tramway (1-30), 6 for Monte-Carlo (31-36) and 64 for Nice (37-100). Later trains of trams and trailers, some open sided, were used. Goods wagons were also pulled. After the Great War the fleet increased to 183 trams, 100 trailers, 13 tractors and 160 goods wagons, operating on 145 km of route.
Car 3 in our picture is typical of the early coastal cars. They were mounted on 4-wheel Brill 21E trucks of 2.13 metres wheelbase. Each had two GE58 35 h.p. motors and B24 controllers, running at 600 volts d.c. They had hand operated wheel brakes for normal service stops and rheostatic brakes for emergencies. The bodies were 7.9 metres long (over platforms) with six side windows, having first and second class saloons. They carried 33 passengers, 12 on leather covered longitudinal seats in 1st. class, 12 on wooden longitudinal seats in 2nd. class, 4 standing on the front platform and 5 standing on the rear platform. They were painted deep golden yellow with white lower rocker panels. From around 1905/6 the dashes of the coastal cars were painted green. From 1925, the T.N.L. livery became green and cream.
From 1929 the T.N.L. tramways were progressively replaced by buses, including from 1942 five routes of trolleybuses which ran until 1970. A few town tram routes survived the Second World War, with the last tram running on 30th January 1953. The coastal line along the Corniche suffered from competition from motor coaches and private cars, and was said to cause obstructions to the road traffic. Nice to Monte-Carlo was closed on 26th January 1931 (followed by Menton to Sospel on 23rd March), and Monte-Carlo to Menton on 21st January 1932.

Go to Postcard Of The Month Index




Reload Home if you linked directly to this page



Postcard of the Month is created by John R. Prentice © Copyright 2003