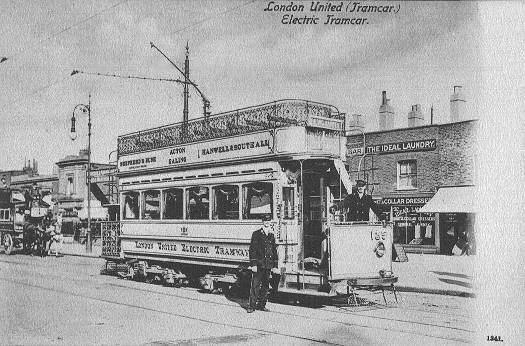 London United Tramways Car 135 at Shepherd's Bush
The year 2001 was the centenary of the opening of London's first true electric tramway. In 1901 electric tramways began in East Ham, Croydon, and the very first of all, the London United Electric Tramways routes in West London.
This card is by F.Hartmann and is number 1341 in their range. The caption oddly says "London United (Tramcar) Electric Tramcar". The tram is in service on the route from Shepherd's Bush to Hanwell and Southall via Acton and Ealing, which opened on 10th July 1901. The photograph is taken at the Shepherd's Bush terminus where the tram has just arrived. Although the card is undated, the wording on the reverse of the card says "THIS SPACE AS WELL AS THE BACK MAY NOW BE USED FOR COMMUNICATION (Post Office Regulation)". Use of this wording, together with the condition of the tram and buildings behind, suggests that the view dates from around 1902.
Tram 135 is of the series 101-150, known after 1914 as type "X". They were built in 1901 by Geo. F. Milnes, with "maximum traction" trucks by McGuire. They had two 25 horse power Westinghouse 49B motors and Westinghouse 90M controllers. They seated 69, 30 on the lower deck, 39 on the upper. Originally the colour for this route was white with blue and gold lining, but in 1904 they were repainted mid-chrome yellow and white.
In 1894 the London United Tramways Company, with Sir George White as Chairman and Sir James Clifton Robinson as Managing Director, had taken over the West Metropolitan Tramways Company and their horse tram routes. From the outset it was their intention to electrify the tramway. Work commenced in 1900, and the first electric cars ran in public service on 4th April 1901 from Shepherd's Bush to Acton, Shepherd's Bush to Kew Bridge via Chiswick, and Hammersmith to Kew Bridge.
Public service could possibly have started some months earlier as the tramway was ready, but there was a serious dispute with the Kew Observatory, whose scientists said that stray electric currents would interfere with their instruments. It was suggested that the tramway should be electrified using the conduit system or double overhead. After much arbitration by the Board of Trade, it was decided that the instruments should be relocated (to Eskdalemuir, Dumfriesshire, Scotland), L.U.T offering to pay £10,000 to help with the costs, and so London's first electric tramway service was able to commence.
Also see Postcard of Car 117 at Uxbridge.

Go to Postcard Of The Month Index




Reload Home if you linked directly to this page



Postcard of the Month is created by John R. Prentice © Copyright 2001