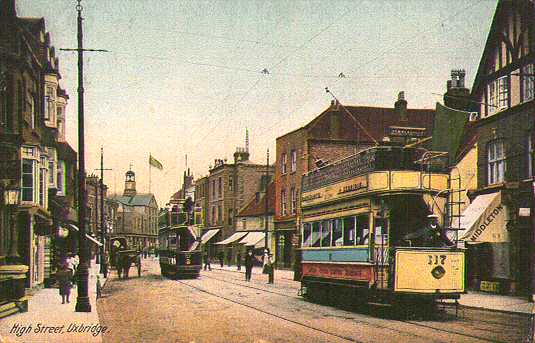 London United Tramways Car 117 in High Street, Uxbridge
The postcard is from the "Kromo" series, published in London by Blum and Degen (B&D) and printed in Saxony. It probably dates from about 1906. This example was sent in the post on April 26th 1909.
The tram is of the series 101-150, known after 1914 as type "X". They were built in 1901 by Geo. F. Milnes, with trucks by McGuire. However, this particular example (117) was fitted with Brill 22E trucks in 1905, in an experiment to reduce noise levels. They seated 69, 30 on the lower deck, 39 on the upper.
The colour of the postcard is just the ideas of the printer. In actual fact, at the time of this view, the livery would have been white and yellow (earlier all over white, later red and white). The tram in the background is car 21 of the 1-100 series ("Z" class) which were always red and white.
The Uxbridge tram route opened on 1st June 1904, being an extension of the existing line from Shepherd's Bush to Southall. West of Southall, large sections of the route were originally of a rural nature.
Also see Postcard of Car 135 at Shepherd's Bush.

Go to Postcard Of The Month Index




Reload Home if you linked directly to this page



Postcard of the Month is created by John R. Prentice © Copyright 1998