Compressed Air Trams
By John Prentice
10. CONCLUSION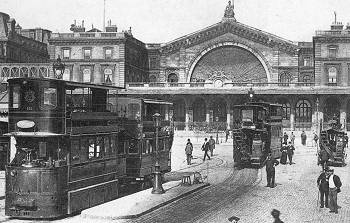 Mékarski car 151 of the CGO 1900 series at Gare de L'Est terminus of route TG from Montrouge, together with its trailer and on the right another similar pairing. This view is around 1905.


That brings to a close the story of the Compressed Air Tram.

The author gratefully acknowledges the following main sources of reference:
Les Tramways Parisiens by J. Robert, 1992
Histoire des Transports dans les Villes de France by J. Robert, 1974
Paris Nuagère Transport Public by G. Renoy, 1978
Le Temps des Tramways by René Courant, 1981
La Nature, article by Giraudière, 1876
La Nature, article by Edmund Boca, 1888
La Nature, article by L.Pierre-Guédon, 1903
L'Air Comprimé Appliqué a la Traction des Tramways by L.-A Barbet, 1895
Les Tramways pneumatiques Popp-Conti by the suppliers. 1896
Tramways of East London by Rodinglea, 1967
Tramways in Metropolitan Essex Vol. 1 by V. E. Burrows, 1967
LCC Tramways Vol.2 by E. R. Oakley, 1991
A History of the British Steam Tram Vol.1-7 by D. Gladwin 2004-10
Tramways Their Construction and Working by D. Kinnear Clark, 1894
Street Railways: Their Construction, Operation and Maintenance
by C. B. Fairchild, 1892
The Wantage Tramway by S.H.Pearce Higgins, 1958
Liverpool Transport Vol.1 by J.B.Horne and T.B.Maund, 1975
Die Strassenbahnen von Bern und Thun by C. Jeanmaire, 1969
Schweizer Strassenbahnen Damals by Hansrudolf Schwabe, 1976
Fares Please by John Anderson Miller, 1941
Trolley Car Treasury by Frank Ransome, 1956
The Railway World, various issues before 1900
(note: renamed Tramway & Railway World during 1899)
The Engineer, various issues before 1890
Numerous G.B. and U.S. patent documents
This article was originally published in serial form in the magazine Tramfare during 1994, but greatly expanded for this version. The author would like to record his appreciation to the late Brian Martin, then the Tramfare Editor, for his help and encouragement in its production, and also to thank Bob Appleton for his patent and additional photographic contributions.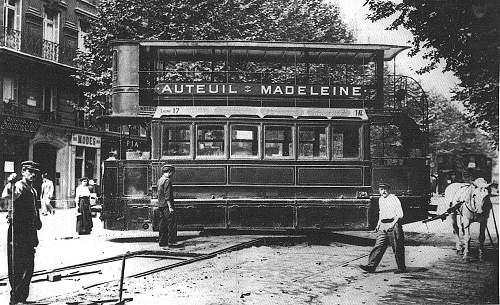 Finale. The last Paris Mékarski car ran on route TAE (by then line 17) from Auteuil to Madeleine on 2nd August 1914. Here, in late days, this 1900 series car is seen here being turned by horse power on the turntable at Rue Taitbout.
In its day the compressed air tram was ideal. Although slow by today's standards, at that time the performance was equal to other traction methods. Unlike the others however, it was smooth, quiet, free from emissions of smoke, steam, and fumes, and did not require ugly overhead wires or expensive conduit. M. Louis Mékarski should have been proud of his achievements, and we should not forget them.
© Copyright John R. Prentice 1994 & 2014