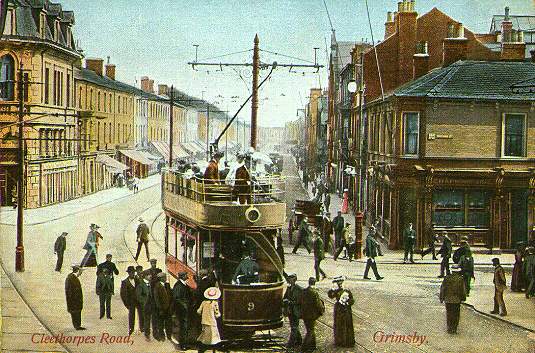 Great Grimsby Street Tramways Company Car 9,
Cleethorpe Road
Our postcard shows car 9 of the Great Grimsby Street Tramways Company in Cleethorpe Road, Grimsby circa 1905. It was printed in Saxony and is card number 4089.5 in a short series of Grimsby cards by the national publisher Hartmann. The standard gauge tramway joined the seaport of Great Grimsby with its nearby neighbour Cleethorpes, a seaside resort.
This line began life in 1881 as a horse tramway, the company being a Provincial Tramways subsidiary. Provincial decided to electrify it and on 7th December 1901 the route from Cleethorpes opened, with a number of small extensions taking place in the next few years to bring the length of the system to just over six miles. At its maximum, the tram fleet stood at around forty cars including two single-deckers.
At first there were also six open-top trailers. Two were ex-horse trams, which in 1918 were sold to Lincoln and four were built in 1899 as horse cars but designed to be capable of conversion to electric cars, which actually occurred in 1920. Four Falkenreid single-deck cars of 1898 had been purchased from the defunct Alexandra Park Electric Railway in 1899 and were rebult as double-deckers in 1903. In 1922 an open charabanc type tram called the "tram coach" was built (see historic photo), which in 1925 was transferred to Provincial's Portsdown & Horndean line.
Car 9 on our postcard was one of the initial batch of 22 open-toppers built for the opening of the tramway in 1901 by the Electric Railway & Tramway Works Limited of Preston (two more identical cars were added in 1902). They seated 22 inside and 34 on top. They had Brill 21E trucks with 2 x 25 horsepower Walker 33S motors and Dick Kerr S7 controllers (note at this date the Dick Kerr companies were importing their electrical equipment from Walker Electrical Co. of Cleveland, Ohio). Some cars were later top covered but many retained their open tops for the holiday season trade. The livery was bright emerald green and cream, not brown and cream as shown on the postcard.
On 6th April 1925 Grimsby Corporation exercised their rights under the 1870 Tramways Act and purchased the section of the tramway within their borough, together with all but thirteen of the trams. The cars, including car 9, were repainted crimson lake and ivory. From October 1926 the corporation began to close the tramway, mostly in favour of trolleybuses, with the last tram running on 31st March 1937. Meanwhile the company had continued to run trams in Cleethorpes. However in 1935 the remaining tramway was offered for sale to Cleethorpes Urban District Council who took over on 15th July 1936, with at least one car being repainted dark blue and primrose, but promptly replaced the trams with trolleybuses on 17th July 1937. The transport systems of Grimsby and Cleethorpes were reunited under one management on 1st January 1957, but trolleybus replacement was by then already under way with the last trolleybus running on 4th June 1960.

Go to Postcard Of The Month Index




Reload Home if you linked directly to this page



Postcard of the Month is created by John R. Prentice © Copyright 2006