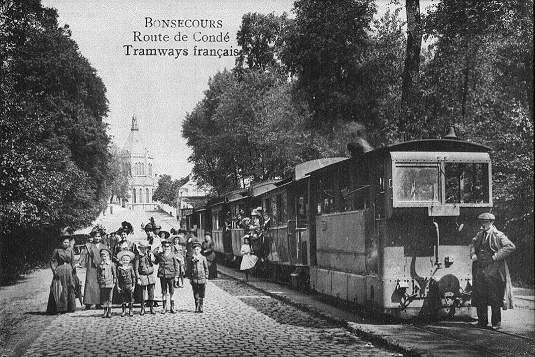 Valenciennes Steam Tram, Bonsecours
The caption on this postcard reads "Bonsecours Route de Condé - Tramway Français". Why French tramway? Well Bonsecours was right on the Belgian border and the tramway was on the French side, running from there via Condé to Valenciennes. The card was published around 1910 by Alph. Oeyen of Brussels, Belgium.
The first trams ran in Valenciennes on 1st January 1881, being operated by the "Société du Tramways de Valenciennes à Anzin et Extensions", but from 1885 becoming part of the "Chemin de Fer Economiques du Nord" (itself part of the Belgian Baron Empain group of tramways), which despite its name operated a number of tramways throughout France and not just in the North. The metre gauge system expanded to operate on similar methods to the Belgian Vicinal tramways, with routes radiating from Valenciennes to reach the surrounding towns of St Amand in 1882, Blanc Misseron (where the tramway met the Belgian Vicinal) in 1885, Hergnies in 1894, and finally to Lourches in 1902. Including two small extensions opened around in 1928 and 1931, the system was 65 km in length. The route to our postcard location at Bonsecours opened on 14th August 1892.
The rolling stock consisted of nineteen 0-6-0 tram locomotives built by the Belgian company Turbize (owned by Ateliers Métallurgique) between 1881 and 1884, and one built in 1885 coming from Turbize's then new French factory at nearby Blanc Misseron. There were 75 two-axle trailers with open platforms. The locos were double-cabbed and originally open-fronted but later received windscreens. There were minor differences in specification, but typical example locos, such as that on our postcard, were 1.9 metres wide and 5.4 metres long. They weighed 12.5 tonnes in working order. The boiler capacity was 1,198 litres. The cylinders were 23 cm bore and 36 cm stroke. They had 90 cm diameter wheels with brakes on all six. After 1901 Smith-Hardy continuous braking was fitted to the trains, allowing an increase in speed from 20 to 25 km per hour and the maximum train length from 35 to 60 metres. The livery of locos and trailers was dark green with yellow lining.
In 1911 the decision was taken to electrify the system and this began in 1914, but due to the intervention of the first world war the Bonsecours line was not undertaken and steam traction continued there until 1923. The system was electrified to 600 volts supplied from five sub-stations. Considerable damage occurred during the war which subsequently needed repair. The electrical system ultimately used some 48 motor cars, 2 motorised goods vehicles and 50 trailers, three of the motor cars later becoming motorised goods vehicles.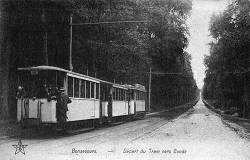 The electric motor cars were built by Ateliers Métallurgique at Nivelles on two-axle trucks of 2.5 metre wheelbase. They were fitted with reversible bow current collectors, replaced by pantographs in 1933, when other improvements took place enabling speed to be increased from 20-30 km per hour to 50 km per hour. They had electrical equipment from the "Société de Constructions Électriques du Nord at de l'Est" (Jeumont), with two TC100 motors (at first TC80) giving a total of around 75 horsepower. The cars were divided by a partition into two classes, originally with 6 first class seats, 18 second class seats and room for 26 standees. They were 9.932 metres long overall (the saloon was 5.790 metres long) and 1.9 metres wide. There were three brake systems, hand, rheostatic and Westinghouse continuous air. The livery was a light creamy yellow.
In 1912 the steam tramway carried 3,343,000 passengers, this rising in electric days when by 1927 some 13,271,000 passengers took a ride. During the second world war again the Valenciennes system (together with the town) was severely damaged, rebuilding not being fully completed until 1955 when a new town terminal at Place Hainaut was opened. Between 1961 and 1965 the tram routes were replaced by buses with the last line, the one to our postcard location at Bonsecours, closing on 3rd July 1966 after an "official" last car had run on 2nd. But the story does not end here, as in 2006 a new second generation tramway has opened in Valanciennes with an inauguration on 16th June and full fare paying public service starting on 3rd July, 40 years after the original closure.
The small view is at the same location, but looking in the opposite direction, just after electrification in 1923 and is taken from a postcard by Emile Dumont of Liège, Belgium.

Go to Postcard Of The Month Index




Reload Home if you linked directly to this page



Postcard of the Month is created by John R. Prentice © Copyright 2006