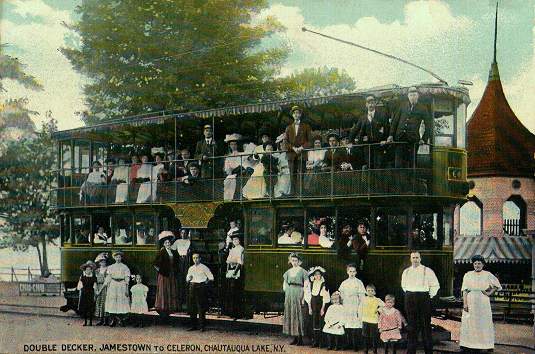 Jamestown - Celeron "Columbia", Chautauqua Lake
This is a "Ham" postcard published by Harry H. Hamm of Erie, PA. The card carries a small logo depicting a ham. It shows a double-deck tram at Chautauqua Lake at Celeron (now known as Celoron), which was connected to Jamestown, NY by a 26 mile long tramway. The original photograph was taken around 1905, our copy of the card being posted on 6th September 1911 from Buffalo (about 50 miles north of Jamestown) to a Miss Carrie Irwin in Pittsburgh, Pennsylvania. The message reads, "Did you ever see this kind before? Had a good time at Celeron on Labor Day - Jim", labor day being a few days earlier.
E.C.Sessions, President of the Highland Park and Fruit Vale Railway Co. of Oakland, and C.J. Pullman (brother of George Pullman) of Chicago teamed up in 1891 to produce a number of demonstration double-deck cars of which this tram was one. It did not immediately find a buyer and so in 1893 was displayed with other Pullman products at the Columbian Exhibition in Chicago. Here it was seen by the President of the Jamestown Street Railway, A.N.Broadhead, who immediately purchased it and shipped it home together with other items for his amusement park there, where it arrived on 30th May 1893. In 1895 it was transferred to the new line to Celeron, where it never carried a number but was named "Columbia". This tram was a great favourite with passengers and was much photographed, being the only double-decker among the 19 cars of the Chautauqua Traction Co. that operated the route and also owned Sylvan Park at the lake.
Columbia was probably 33ft 8in long (30ft 4in over the dashes), 7ft 4in wide and 14ft 9.5in in height. There were four saloons. Those on the lower deck were designated for "ladies" and "smokers". The car had sprung seats covered with a rich plush. Each saloon had seats for 20 giving a total capacity of 80, plus a large number of standees. On the lower deck were inward facing bench seats. On the upper deck the seats were an outward facing back-to-back "knifeboard" design and the upper deck was open-sided. On each side of the car were two small centre entrances with an outward facing staircase leading to an intermediate landing, which in turn had smaller staircases to each of the upper deck saloons. The most unusual feature was the driving position which was from separate driving compartments at each end of the UPPER deck. There were two trolley poles with the front one being used in service and which could be raised and lowered from the driving compartment. As originally built, Columbia was painted royal blue with varnished mahogany woodwork.
Columbia was withdrawn around the time the US entered the First World War in 1917, but was stored for some years at Washington Street depot, probably being scrapped in 1926.

Go to Postcard Of The Month Index




Reload Home if you linked directly to this page



Postcard of the Month is created by John R. Prentice © Copyright 2006