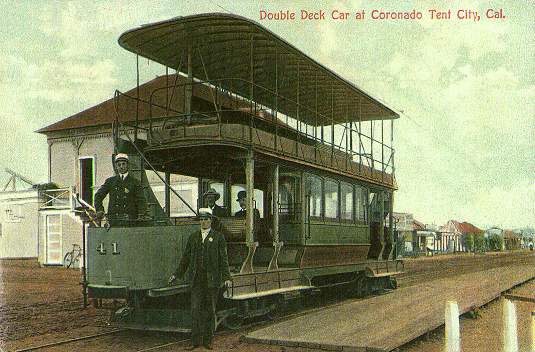 Coronado Car 41, The Tent City
This postcard comes from the United States and shows the tramway in Coronado, California, at the location of the "Tent City". Our example was posted on 19th April 1907, with the photograph probably dating from around 1905. The card was published by the Newman Post Card Company of Los Angeles and was printed in Germany. It is worth noting that most quality postcards in the US were produced in Germany at this time and that after the outbreak of the First World War, when supply ceased, the home printed cards were nowhere near as good.
Coronado Beach is on the opposite side of the bay from San Diego and was linked to it by a steam ferry boat service. The line was built by the Coronado Railway Company, originally as a horse tramway, then operated by a steam tram locomotive, using double-deck bogie cars from the St. Louis Car Co. Later the line was purchased by the San Diego Electric Railway Co. In 1893 the line was electrified. It ran along what is now Orange Avenue from the San Diego ferry terminal to the Hotel del Coronado, a large wooden building completed in 1888.
Car 41 was the only double-deck electric tram. It was probably built by J.G.Brill. It had back-to-back "knifeboard" seats on the upper deck. The lower deck was a combination car i.e. part open sided and part a closed saloon, a design commonly known as a "Californian Car" due to the large number of such cars used in that state and since the design may have originated with San Francisco's California Street Cable Railroad Company. There were also a small number of single-deck electric cars, with some of the earlier St. Louis cars cut down to single-deck and used as trailers.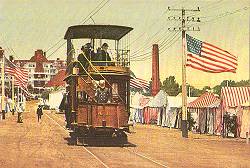 In 1900 the line was extended beyond the hotel to the Coronado Tent City, a summer resort, created in that year by John D. Spreckels, although in the late 1930s this section closed and the tramway reverted to a shuttle between the ferry and the hotel. The line was finally abandoned on 1st June 1947, but the Hotel del Coronado is still there and was designated a National Historic Landmark in 1977.

The small image, taken from a modern reproduction of a card from the same period and looking towards the hotel, also shows car 41 at Tent City.

Go to Postcard Of The Month Index




Reload Home if you linked directly to this page



Postcard of the Month is created by John R. Prentice © Copyright 2006