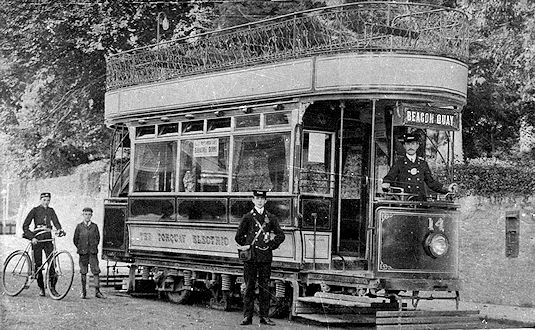 Torquay Electric Tramways Car 14, Torre Station.
This postcard dates from around 1907 and shows Dolter surface contact tram 14 of the Torquay Electric Tramways at the Great Western Railway's Torre station in Devon. The view has been attributed to local professional photographer C.O. Pyne of Croft Road, Torquay and while the card itself is not credited, it was probably published by him.
The 3ft 6in gauge tramway in Torquay ran from 1907 until 1934 and has been fully described in connection with the initial track laying there See Postcard.
The Dolter surface contact stud system only lasted until 1911 and its method of operation is described in connection with Hastings See Postcard. After that date the Dolter equipment was removed from the trams.
The tram in our postcard is one of 18 open-top cars built in 1906/7 by the Brush Electrical Engineering Co. Ltd., of Loughborough for the opening of the tramway. They had 22 seats on the lower deck and 27 on the upper. They were fitted with 4-wheel radial trucks of 8ft 6in wheelbase designed by Montague Brown Mountain and Geoffrey Marsden Gibson, with two 35 hp General Electric 58-4T motors and had British Thomson-Houston B-18 controllers. The livery at the date of this photograph was maroon and cream. It lasted until the closing of the tramway in 1934.

---
Previous Postcards
There is a full Index of Postcards shown in this series, all of which can still be viewed.



Go to Postcard Of The Month Index


Reload Home if you linked directly to this page



Postcard of the Month is created by John R. Prentice © Copyright 2023