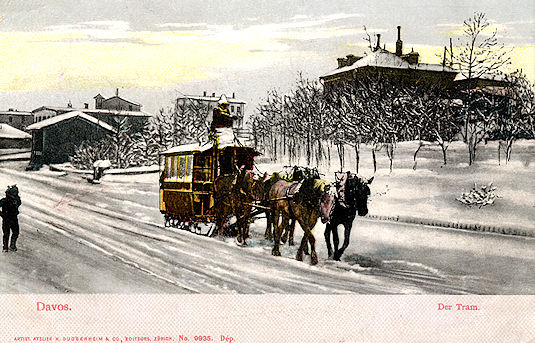 Davos Rösslitram, The Promenade.
Rösslitram is a Swiss-German word for horse tram, but is sometimes applied to other horse drawn passenger vehicles. This postcard has an undivided back and ours is postmarked 1904, but it dates from around 1900. It was published by H. Guggenheim & Co. of Zurich. The caption simply says "Davos, Der Tram". The sharp-eyed will realise that it is not really a tram at all, but is very like one as we shall see later.
Davos is a resort town in the Graubünden canton of Switzerland. It stretches along the valley of the Landwasser river, and has two main centres, Davos Dorf and Davos Platz. Today it is best known for the annual World Economic Forum. It is a large winter sports resort and has a long history of skiing and ice-skating dating back to the late 19th century.
Willem Jan Holsboer was a Dutch banker who worked in London and married a young English woman in 1865, but she became seriously ill with tuberculosis. He took her to Davos in Switzerland but sadly she did not live long. Together with others he created a Kurhaus in 1867 in Davos Platz for treatment of the disease and promoted Davos as a spa town. In 1873, after the destruction of the first building by fire, Holsboer built a new grander building, complete with a large glass gallery and a social hall. To this he added a concert hall and theatre in 1881, the complex then being known as his Konversationshaus, becoming the "Palace Hotel & Curhaus" in 1930, today the Hotel Europe. In 1888 Holsboer was responsible for the instigation of the Landquart-Davos metre gauge railway line, the first section of what was to become the Rhätische Bahn (RhB). He died in 1898 but his final project, completed in 1900, was a sanitorium on the Schatzalp at altitude above Davos, served by the Schatzalpbahn funicular railway from Davos Platz, which still operates today.
This brings us to the subject of our postcard. The Davos Rösslitram was a carriage service that ran between Davos Platz and Davos Dorf and was established by Willem Jan Holsboer to transport the guests from the other hotels, and later when opened from the Dorf and Platz RhB stations, to his Konversationshaus. It was the forerunner of today's bus company, Verkehrsbetrieb der Landschaft Davos (VBD), which covers the same route, albeit going much further.
The Rösslitram commenced working on January 25th 1883. The fare for a single journey was 40 centimes. The large tram-like body had four side windows and with a rear loading platform. The body was carried on skids and pulled by four horses along the snowy Promenade roadway. It carried fourteen passengers on two longitudinal bench seats. The design is very similar to true horse trams of that era. It was not unique as in Montreal, Canada, the conventional horse tramway used trams like these for its winter service. Contemporary photographs suggest that there was also a much smaller carriage on skids, and that there was a horse bus for the summer. It is not certain when the Rösslitram service ended, but there was a sharp falloff in Swiss tourism by the date of the First World War and it would have certainly have ceased by then.


Go to Postcard Of The Month Index




Reload Home if you linked directly to this page



Postcard of the Month is created by John R. Prentice © Copyright 2022