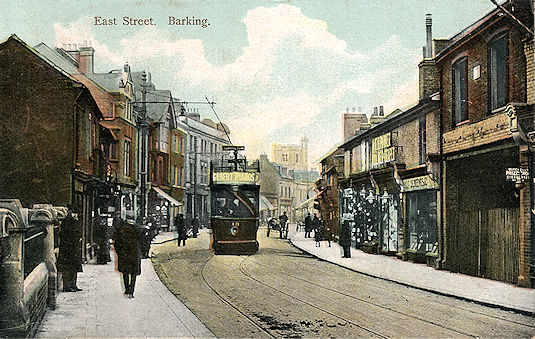 East Ham Tramways car 13, East Street, Barking
This postcard was produced by J. Worricker of 38 East Street, Barking, Essex. Most of Worricker's cards were 'real-photographic', but unusually this one is in colour, probably printed in Saxony. It is postmarked in October 1907 and the view is from around that date. Mr Worricker owned a shop in East Street, just to the right of the tram in the picture. In later days he also had a shop further along East Street in Station Parade, close to Barking Station. Worricker's shops sold toys and prams and was trading from 1898 to 1993. Photography was probably just Mr Worricker's hobby. In the background, can be seen the tower of the 13th century Grade 1 listed St. Margaret's Church, where explorer Captain James Cook was married in 1762.
Although the car is in Barking, on the tracks of that council's tramway, it was not until 1907 that Barking themselves ran trams over it. From November 1905 East Ham had leased the track and operated a service from Canning Town (the destination of the tram in the view) to Barking Station. This was jointly worked with West Ham Corporation Tramways and of course was on West Ham tracks beyond Green Street (The Boleyn). On 20th December 1912, a through service was created from Aldgate to Loxford Bridge (numbered as route 69 a couple of weeks later), with East Ham, Barking, West Ham and the London County Council Tramways all taking part, the local cars having been fitted with plough carriers to run over the LCC conduit system. In May 1914 Barking dropped out of the joint scheme, leaving the other three to operate a route 67 from Aldgate to Barking Broadway. The section from the Broadway to Loxford Bridge was then leased to Ilford tramways, Barking restricting themselves to just their Beckton Gas Works route (see postcard).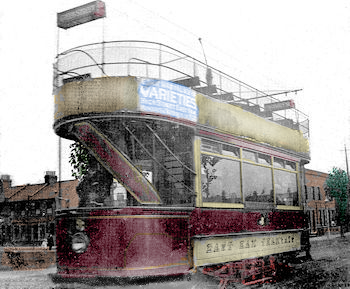 The East Ham tram in the picture was one of a batch of 15 built in 1901 by the Electric Railway & Tramway Carriage works of Preston, with 6ft wheelbase Brill 21E trucks, Dick Kerr DB1 form B controllers and Dick Kerr 25A motors. They seated 56 passengers. Another example is in this previously unpublished image of car 3 (right), which was restored and colourized from an old quarter-plate glass negative taken in the autumn of 1901. (Publisher's Copyright John R. Prentice, 2022.)
Barking council closed their Beckton route in 1928, but the remainder of the tramways passed to London Transport in July 1933. Ilford services on East Street ceased in February 1938 and the Aldgate service from the Broadway ended on 9th June 1940, the final conversion of trams to trolleybuses in the pre-war replacement programme.


Go to Postcard Of The Month Index




Reload Home if you linked directly to this page



Postcard of the Month is created by John R. Prentice © Copyright 2022