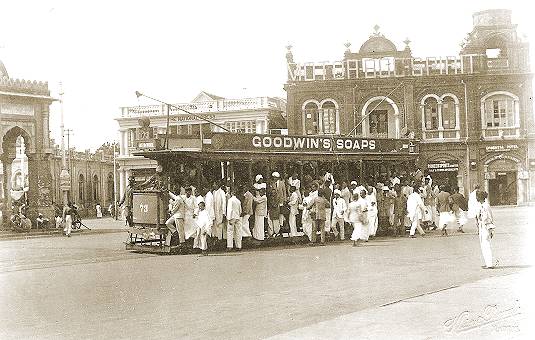 Madras Car 73, Mount Road
Madras (named Chennai since 1996), is situated on the east coast of India on the Bay of Bengal and was founded in 1639 by the British East India Company as Fort St. George. Today, Chennai has a population of around 8m and major industries are in the areas of finance, banking, computer services and manufacturing.
The first tramway proposals for Madras were as early as 1857 but nothing came of them. In 1874, an 11-mile, metre gauge horse tramway was opened but it ran into difficulties by 1886 and was nearly scrapped.
The Madras Electric Tramways Co. Ltd. was formed in 1892, tramway construction started in 1894 and the first section opened on 7 May 1895 under the Indian Tramways Act, 1886. It was the first electric tramway in India and operated on the conduit system with the slot alongside one of the running rails which was used for earth return. Overhead collection had been intended but serious concerns about interference with government telephone and telegraph lines resulted in a conduit system being adopted. The Electric Construction Co. (ECC) of Wolverhampton designed and built the special track.
The fleet of about 32 canopied crossbench trams, supplied by ECC but with bodies built in Madras, had a wheelbase of 7 feet and were fitted with 10hp motors. The original route was almost dead level with much of the line only 7 or 8 feet above the high water mark.
The conduit system had serious problems due to monsoon rains and was eventually replaced by more conventional live overhead. A new company was formed in 1904, 'Madras Electrical Tramway (1904)' by which time there were nine miles of route and 45 trams. By 1924, the system had grown to 26 miles and about 100 trams of two distinct types. All were roofed crossbench cars but there were smaller four-wheel cars about 35 feet long and bogie cars 50 feet long and seating 60, although many more could stand or hang on the outside! New stock of around 20 enclosed trams, mounted on English Electric bogies, were built between 1932 and 1935, by which time some of the earlier four-wheelers had been rebuilt as saloon cars. Some of the 1893-built conduit cars, converted for overhead operation many years previously, survived to this time.
Our postcard shows bogie car 73 which was almost certainly from the 1911-12 intake which had locally-built crossbench bodies mounted on Brill 39E bogies. It is seen on its way from Kristinampet to Custom House terminus at the harbour, to the north-east, and seen here at the stop outside the Oriental Hotel at the junction of Wallahjah Road (to the right) and Mount Road. The latter was officially called 'St. Thomas Mount Road' but most of its length has now been renamed 'Anna Salei', one of the main streets in the city. However, the location shown is still named Mount Road, but today it's just another frantic traffic junction.
The card was printed and published by Klein & Peyerl of Madras and posted from there in September 1929 to an address in Essex. The writer has something interesting to say: "This is our Piccadilly Circus! Mount Road, which is the main street of Madras. The tram is going towards Roy's office. Europeans do not travel in trams. There are some very fine new buses running now. Heaps of love, Frieda".
The tramway seems to have run satisfactorily until just after WW2 when it started to sustain losses. By the early 1950s, the company wanted to make hundreds of workers redundant in order to save money and remain viable but the workers came out on strike. There was then no way back and the system closed on 12 April 1953 with the loss of everyone's job.
Since 2015, the Chennai Metro has been in operation and a major expansion is currently being completed to bring the system length to well over 100km.


Go to Postcard Of The Month Index




Reload Home if you linked directly to this page



Postcard of the Month is created by John R. Prentice © Copyright 2021