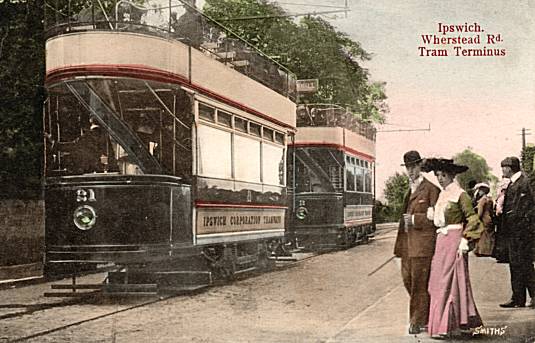 Ipswich Corporation Tramways car 21, Wherstead Road Tram Terminus
Our postcard shows Ipswich Corporation Tramways car 21 on Wherstead Road at the tram terminus at Bourne Bridge. The card was published locally by the Smith's Suitall stationary company, which was founded in the Buttermarket, Ipswich by Sarah Smith in 1891. The postcard was in a series by Percy Smith, son of Sarah and was printed in Berlin, Germany and dates from the summer of 1904.
The Ipswich tramway has already been described (see Postcard) so it suffices here to simply repeat that electric trams operated from 1903 to 1926, when they were replaced by trolleybuses. The single track with passing loops route on which our tram is seen originally operated from Felixstowe Road via the city centre at Cornhill, but after 1922 became part of route 1 from Whitton.
Tram 21 in our picture was one of the initial batch of 26 such cars built for the opening of the tramway by the Brush Electrical Engineering Co. Ltd. of Loughborough in 1903, having Brush AA 3ft 6in gauge trucks and Westinghouse controllers and motors (2 x 25hp). They had narrow 5ft 9in wide bodies, seating 24 passengers inside and 26 on top. The livery was dark green and cream.


Go to Postcard Of The Month Index




Reload Home if you linked directly to this page



Postcard of the Month is created by John R. Prentice © Copyright 2018