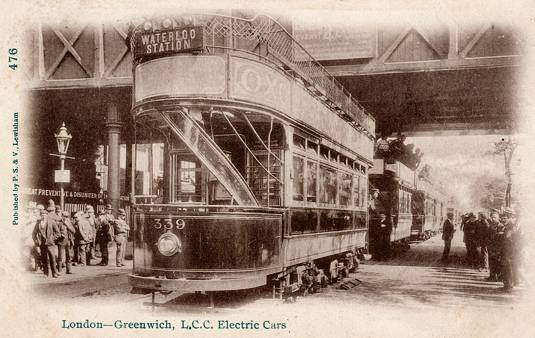 London County Council Car 339, Old Kent Road
Our postcard shows London County Council class D tram number 339 in its original open-top condition. The postcard was published in 1904 by "P.S. & V., Lewisham" who in fact were Perkins, Son & Venimore of 10 Weardale Road, Lee, S.E. London. Our copy was posted in November 1904 from Greenwich to an address in Devon. The view may be on the opening day, or at least close to it, judging by the interested crowds.
The location of the picture is in the Old Kent Road at (or rather under) the former Old Kent Road and Hatcham station on the London Brighton and South Coast Railway's South London line. This station opened on 13th August 1866. Until 1st June 1911 there was also a passenger service onto the East London line, something which returned in 2012 as part of London Overground. The station closed temporarily on 1st January 1917 as a First World War economy measure, but was never reopened afterwards.
The tramway here was built in 1903 and opened to public service for trams from Central London to Greenwich on 17th January 1904. It passed to London Transport in 1933 and continued for use by a variety of services until the end of London tramways on 5th July 1952.
Tram 339 was one of a batch of 75 of their class D, built in 1903/4 by the Brush Electrical Engineering Company at Loughborough (a further 25 bodies were from the British Electric Car Company), and running on maximum traction bogie trucks made by the British McGuire Company. These trams were originally open-topped and then open-balcony top covers, built by Milnes Voss, were added one or two years later, in the case of 339 at the end of 1904, the ends being enclosed in 1908. For each car British Westinghouse supplied two type 200 30hp motors (from 1924-25 type 220 42hp motors) and 90M controllers. The class was withdrawn at the end of the 1920s and early 30s (339 on 22nd December 1930). As built these cars were conduit only but about 24 (not 339) were fitted with trolley poles after the First World War.


Go to Postcard Of The Month Index




Reload Home if you linked directly to this page



Postcard of the Month is created by John R. Prentice © Copyright 2018