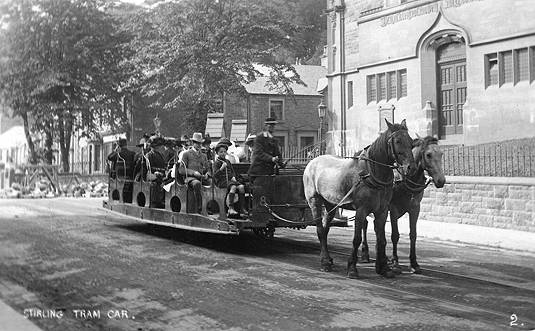 Stirling & Bridge of Allan Toastrack Horse Tram 8, Bridge of Allan
Our postcard comes from a local publisher, a Mr Bennett of St. Ninians and the Arcade, Kings Street, Stirling and was produced around 1910. It shows car 8 of the Stirling & Bridge of Allan tramways waiting to depart from the Bridge of Allan terminus.
This standard gauge horse tramway was built in only a couple of months and opened on 27th July 1874. It ran from Bridge of Allan, home of the annual Strathallan Games, just over three miles via Causewayhead, where the depot was situated, to King Street, Stirling (where the card publisher had his shop) and the terminus at Port Street. From 29th Jan 1898 an additional one mile of route operated from King Street to Weaver Row, St. Ninians.
Records about the rolling stock are very uncertain and conflicting. They were a complete mixed bag of mostly second-hand double-deck cars from other systems that were replacing their horse trams, including Glasgow, Edinburgh and Leith, and they were in a variety of liveries, although latterly red-brown and cream. Of the three original 1874 trams (two double-deck, one single-deck) from the Tramway Carriage & Works Company of Glasgow, one double-decker was destroyed in a depot fire in 1877 and was replaced from the same source. There were at least six toastrack trams. Three cars of 1885 were from an unknown, probably English source. Two cars were rebuilt from Edinburgh double-deckers in 1900 and 1902. Our car 8 was built in 1894 and seated 32, but its source is unknown.
In 1878 a Dickinson double-deck steam tram was briefly tried. There were several plans to electrify over the years, but the most promising proposal in 1913 from Balfour Beatty fell through as a result of the outbreak of the Great War. Also in 1913 ex-Edinburgh double-deck car 22 was fitted with a Commer petrol engine and ran well until the end of tramway days. Horse trams ran on the line until 5th Feb 1920 with the petrol car continuing on the St Ninians route until 20th May, when the tramway closed and was replaced by Stirling Corporation motor buses which had been running for the previous two years.


Go to Postcard Of The Month Index




Reload Home if you linked directly to this page



Postcard of the Month is created by John R. Prentice © Copyright 2018