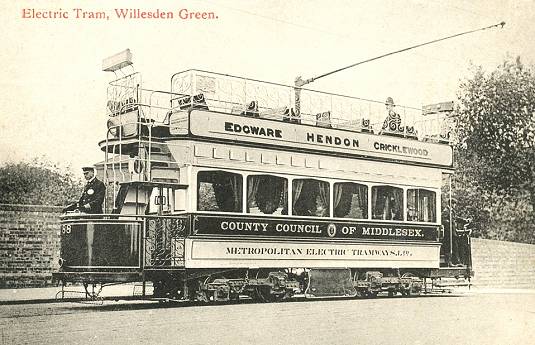 Metropolitan Electric Tramways Car 88, Willesden Green Station
Our postcard shows tram 88 of the Metropolitan Electric Tramways (MET) standing at the terminus at Willesden Green Station, probably in 1906 close to the date of the route opening. It was locally published as No.15 in a series of cards by F.Gulliver of Willesden.
The short section of tramway from Cricklewood Broadway to Willesden Green Station was ceremoniously opened on 30th March 1906, the first tram being driven by Middlesex County Alderman Herbert Nield. Trams were operated Willesden Green-Cricklewood-Hendon-Edgware. In December 1907 the line was extended westwards to Craven Park and trams then operated on a route Willesden Green-Harlesden-Lock Bridge-Paddington. Later other routes ran through Willesden Green. In 1913 MET numbered their routes and those at Willesden Green were 54 and 56 which terminated there, and 60 and 66 which ran through.
Tram 88 on our postcard is one of MET's Type A, numbered 71-130, which were almost identical to trams of the 151-300 class (Type W) of the London United Tramways of 1902, having the unusual "Robinson" double flight staircases. Built in 1904 by the Brush Electrical Engineering Co. Ltd. of Loughborough, they seated 32 inside and 38 on top. The livery was red and white. They ran on Brush type BB reversed maximum traction bogies. Electrical equipment was supplied by the British Thomson-Houston Co. Ltd. of Rugby, each car having two GE58 28hp motors (upgraded to GE67 40hp motors in 1927) and BTH B18 controllers. They had hand operated wheel brakes and rheostatic brakes. Magnetic track brakes were fitted in about 1912 and around this date the wire lifeguards seen in the picture were replaced by the wooden slat type. Car 88 received a top cover in 1929 and in 1930 was upgraded to have BTH 509 KI 60hp motors and BTH B49 controllers. During the period 1920 to 1930 car 88 was fitted with a plough carrier for conduit working.
After the takeover of MET by London Transport in 1933, car 88 was renumbered 2422 into the LT fleet. It was scrapped in 1936 after trams in the Willesden Green area were replaced in August of that year by trolleybuses on routes 660 and 666, which in turn were replaced by Routemaster motor buses on routes 260 and 266 in January 1962.


Go to Postcard Of The Month Index




Reload Home if you linked directly to this page



Postcard of the Month is created by John R. Prentice © Copyright 2018