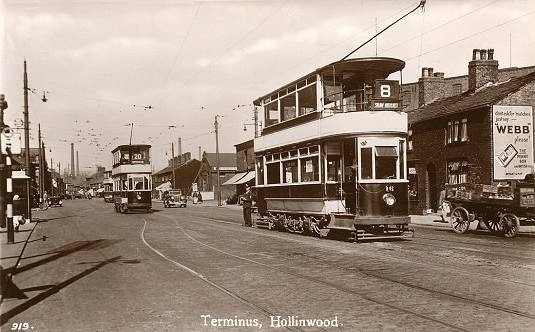 Oldham Corporation Tramways Car 16, Hollinwood Terminus
Oldham, today part of Greater Manchester, was in Lancashire in tramway days. The town came to prominence in the 19th century through its extensive cotton mills. At its zenith, production of spun and woven cotton in Oldham exceeded that of France and Germany combined. The textile industry had collapsed by the late 20th century and the last cotton mill closed in 1998.
Such industry and its close proximity to Manchester (seven miles to the south-west) and Rochdale (five miles to the north) created the need for cheap local transport. From 1880 to 1901, horse trams of the Manchester Carriage and Tramways Co. Ltd. operated a service from Waterhead (east of Oldham), through the town centre and on to Manchester via Hollinwood. Oldham Corporation operated electric trams from 1900 on a number of local routes.
The postcard, published by J.L.Brown of Ardwick, Manchester, shows Oldham trams 16 and 12, looking north towards the town centre, at the Hollinwood terminus in Manchester Road around 1935 and about two miles south-west of the town centre.
Tram 16 on route 8 is soon to depart the four-track layout bound for Wrensnest, about six miles away to the north. Beyond, tram 12 has just left on route 20 for Waterhead but would have started its journey at Stevenson Square in Manchester.
Both trams were built as balcony cars (as seen here) in 1921 by English Electric on Preston 21E trucks powered by two Dick Kerr 30B 40hp motors and using English Electric DB1 K3 controllers. The livery was maroon and ivory.
A complex arrangement of overhead wires and 'trolley ears' just to the left of tram 12 indicates the entrance to Hollinwood tram depot off to the left. Town tram services had ceased by 1939 but the joint service to Manchester lasted until 3 August 1946.
The scene is difficult to imagine today. Most buildings have disappeared in favour of large advertising hoardings and general dereliction. The main road (also designated as the A62) is now a busy dual carriageway and the M60 motorway passes underneath not far away to the north. However, a couple of hundred yards away and off to the left, a tram service runs again. This is the Manchester Metrolink with a tram stop at Hollinwood, on the Manchester to Oldham branch, which opened in 2012 . Since then, this branch has been extended northwards and reached Rochdale town centre in 2014.


Go to Postcard Of The Month Index




Reload Home if you linked directly to this page



Postcard of the Month is created by John R. Prentice © Copyright 2018