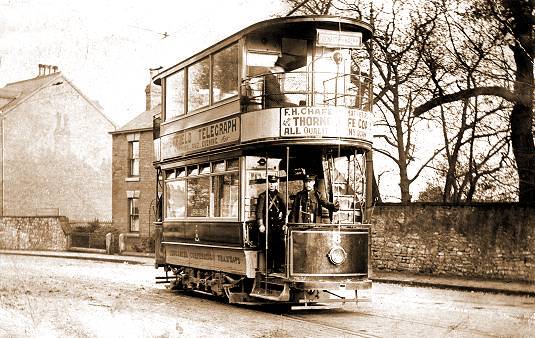 Doncaster Corporation Tramways Car 6, Balby
Our quite rare real photographic postcard of Doncaster Corporation tram 6 in 1908 at Balby. It is card G17 in the range of an unknown local publisher, posted from Doncaster to a nearby address on 23rd August 1908.
The Corporation opened its tramway on 2nd June 1902 with two routes, Station Road to Balby and on Hexthorpe Road to Old Hexworth. Over the next few months additional routes were opened bringing the tramway to just under fifteen miles of standard gauge track. The depot was in Greyfriars Road in the town centre. Before construction began the tramway in Hull was visited and it was decided to use the same style of centre groove rail in use there, Doncaster and Hull being the only British tramways to use this system (see Hull postcard for details).
Car 6 in our view was one of twenty-five open-top "Preston" cars built in 1902 and 1903 for Doncaster by the Electric Railway & Tramway Carriage Works. They seated 22 passengers inside and 34 on top. The trams were mounted on Brill 21E 4-wheel trucks which had two Dick, Kerr 25A 25 horsepower motors and used Dick, Kerr DB1 Form B controllers. The top cover on our car was built by UEC and was new at the date of our photograph in 1908. Covers from UEC and Brush were added to fifteen other trams by 1913. New open-balcony cars were added to the fleet at this time and in 1920, giving a total of forty-six double-deckers. The livery was maroon and cream. A Raworth demi-car, numbered 37, was bought second-hand from Erith in 1916. In addition there was a water car built 1902.
By 1920 bus competition was becoming a problem and in 1922 the Corporation started running their own buses and decided to reduce and close the tramway, in most cases from 1928 replacing trams by trolleybuses. The last tram ran on 8th June 1935 on the Brodsworth route, trolleybuses themselves being replaced by motor buses in 1963.


Go to Postcard Of The Month Index




Reload Home if you linked directly to this page



Postcard of the Month is created by John R. Prentice © Copyright 2018