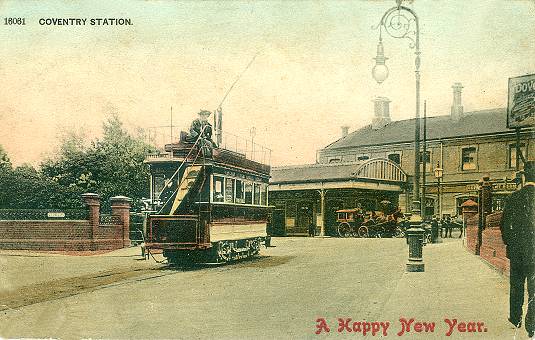 Coventry Electric Tramways. Happy New Year.
Our postcard shows a Coventry electric tram outside Coventry railway station. More importantly it wishes us a "Happy New Year", having an overprint in the bottom right corner. It was produced by Blum & Degen of London, probably in 1904, and is numbered 18061. Our copy was posted to Rochdale from Coventry on 31st December 1904.
The 3ft 6in gauge electric tramway of the Coventry Electric Tramways Company opened on 5th December 1895, having been a take over of the former Coventry & District Tramways Company's steam tramway, which was promptly electrified. The initial route was from the station of the London & North West Railway, about five and a half miles to the village of Bedworth. Further extensions brought the city's tramway up to just over 13 miles. The depot was at Foleshill Road.
Although ultimately the tramway had over 70 trams, the car in our view is one of the earliest. It is one of four built for the opening of the line in 1895 by the Brush Electrical Engineering Co. Ltd. of Loughborough. As can be seen the open upper deck was uncanopied and had knifeboard seats (back-to-back) which held 20 passengers, with 20 more on longitudinal seats in the lower deck saloon. These trams were mounted on Peckham type 6 cantilever trucks with two 25hp Westinghouse type 12 motors and had Westinghouse type 28 controllers. The initial fleet also had four motorised and two unmotorised ex-steam trailers. Livery was chocolate and cream until 1933 and then maroon and cream or just maroon until the end.
In 1912 the tramway was purchased by Coventry Corporation who took over the operation and made final route extensions, buying new trams. However from 1914 they also commenced to operate buses and by the 1930s started abandoning tram routes in favour of buses. On 24th December 1940 the trams stopped running "for the duration". Coventry suffered such bomb damage during the war that on 25th February 1941 the decision was taken to close the tramway permanently and just run buses.


Go to Postcard Of The Month Index




Reload Home if you linked directly to this page



Postcard of the Month is created by John R. Prentice © Copyright 2018