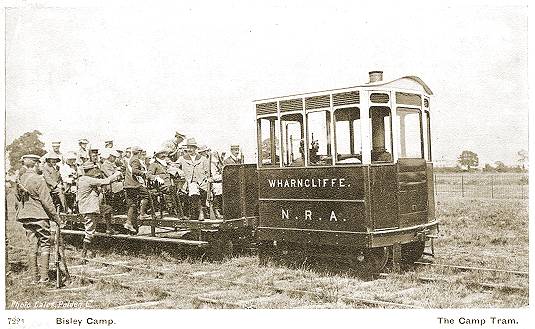 National Rifle Association, Steam Tram "Wharncliffe"
This postcard shows the steam tram "Wharncliffe" at Bisley Camp in around 1906, our copy being posted in that year to an address in Jersey. It was published by Gale and Polden Ltd., who were at that date based in nearby Aldershot, and is card 7224 in their Wellington series.
The National Rifle Association (NRA) was formed in 1859 mostly for the purpose of providing an annual summer competition for shooting and for improving the rifle. In 1860 they ran their first competition which was based on Wimbledon Common, near London. In 1864 a small 1200 yard tramway (later about a mile) was laid on light temporary 14lb/yard track, probably 3ft 6in gauge to provide access to the shoot. It used six open single-deck 4-wheel horse trams with knifeboard (longitudinal back-to-back) seating. Each horse was ridden by a soldier. Each year the track was taken up after the event and replaced the following year.
In 1877 traffic was sufficient for a small steam tram, probably the one which had previously been loaned to the Ryde Pier tramway on the Isle of Wight, to be borrowed from Merryweather & Sons Ltd., of Greenwich, better known at that time as a fire engine builder, but a pioneer of steam trams. This was so successful that the following year they purchased an engine outright and named it Wharncliffe after the association's president at the time, Lord Wharncliffe. It was a Merryweather works number 32, a Type 1 which had 6in bore x 9in stroke cylinders, weighed 4 tons and had an 80psi boiler. It could pull all six of the horse trams. In 1882 the tramway flirted with an electrically driven loco, but this was not a success and Wharncliffe returned the following season.
1889 was the last season at Wimbledon and for 1890 they relocated to Bisley Camp, near Woking in Surrey and handy for the nearby barracks at Aldershot and Pirbright. This became the NRA permanent headquarters and the tramway was relaid there by John Aird and Sons, who had maintained the Wimbledon line, and after an extension of 1898 become about one and a half miles long. From 1893 the London & South Western Railway took over the maintenance of the tramway and its rolling stock. In 1898 the original horse trams were replaced by two bogie open trailers with toastrack seating built by John and Frederick Howard of Bedford. They were all steel and weighed three tons each, far too heavy for little Wharncliffe, so the following year he was overhauled by Merryweather and fitted with a 140psi boiler and possibly larger cylinders. A new firebox was fitted in 1909.
The year 1914 was the last season for the tramway. The shoot returned in 1919 after the Great War but the tramway did not re-open and track, trams and loco were scrapped in the late 1920s.

Go to Postcard Of The Month Index




Reload Home if you linked directly to this page



Postcard of the Month is created by John R. Prentice © Copyright 2017