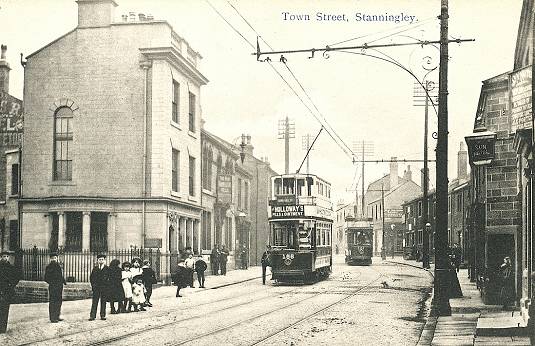 Bradford Corporation Tramways Car 186, Stanningley
Stanningley is a district of Pudsey in West Yorkshire, about 5 miles west of Leeds and in tram days was the border and connection between the Leeds and Bradford tramway systems. The postcard shows Town Street with Bradford tram 186 having just arrived from the city centre. It is waiting for open-top tram 108 to clear the return track before its own return journey.
Bradford Corporation Tramways opened with electric trams in 1898 and was one of 14 British tramways that ran on a 4ft gauge system. This made things interesting when through-running from this point (beyond the trams in the picture) to Leeds was introduced in 1907 because Leeds was on standard gauge. Both Bradford and Leeds fitted some trams with dual-gauge trucks to get around the problem. Through running between Bradford and Leeds ceased in about 1918 which resolved the problem completely.
In this postcard view of c.1908, published by C. F. Wilkinson of 3 Town Street, Stanningley, we see the Bradford terminus where the double track reduced to single track before joining the Leeds rails. Note the style of the ornate traction pole that was typical for Bradford. Much of this scene is still recognisable today; the bank building on the left is still there (albeit not a bank now) and the pub next door, to the left of the tram, is also still there. The buildings in the background beyond the trams have long disappeared.
Tram 186 was originally an open-top car built by Milnes in 1902 or 1903 on a Brush type-A truck fitted with two 35hp motors by Electricité et Hydraulic of Charleroi, Belgium. However, standard BTH B18 controllers were used. Not long after delivery, this car (and many others of this series of 100 trams) was fitted with a 'Bailey' top cover as shown. Seating was 22 downstairs and 29 upstairs. At some later time, the Brush truck was replaced by a Peckham Cantilever B9 truck.
The car in the background, Bradford tram 108, was one of a batch of 60 open-top trams built by Brush in 1901/1902 but with a Peckham Cantilever B9 truck fitted from new, although this was later changed to a Hurst Nelson 21E. Electrical equipment was also by Electricité et Hydraulic of Charleroi. By 1919, this tram had been fitted with a balcony-ended top cover, with seating for 22 downstairs and 28 upstairs.
Both trams would have been in the Prussian blue and ivory livery that was in use at the time. Bradford had nearly 60 miles of tramways but, from 1928, trolleybuses started to replace the trams and this process concluded on 6 May 1950. In turn, the trolleybuses (which never ran as far as Stanningley) were replaced by diesel buses when the system closed on 26 March 1972. As Bradford was the last UK town running trolleybuses, this also brought to an end the operation of trolleybus services in Britain.

Go to Postcard Of The Month Index




Reload Home if you linked directly to this page



Postcard of the Month is created by John R. Prentice © Copyright 2017