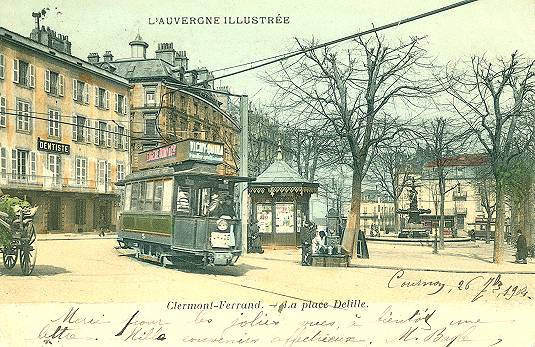 Clermont-Ferrand, Place Delille.
This early postcard in the L'Auvergne Illustrée series from an unknown French publisher dates from around 1900. It has an undivided back. Our copy was posted on 26th September 1904 from France to an address in London, but was redirected from Paddington sorting office to Bognor two days later. It shows a Clermont-Ferrand tram at Place Dellile, where there was a junction. The tram was operated by a primitive overhead current collection system, described below.
The metre gauge line was opened on 7th January 1890 making it the first tramway electrified with an overhead supply in France. The initial concession was to a Monsieur Claret with his chief engineer being a Monsieur Thélin, passing in 1893 to the Compagnie des Tramways Electrique de Clermont-Ferrand. The track of about 7km in length was from Montferrand to Place de Jaude, extended five months later to Royat. It was laid with 22kg/m Marsillon rail (replaced in 1904 by Broca rail). There was a power station with a Farcot steam engine and Thury generator at the depot in Rue de la République.
When first opened the tramway overhead was the same Siemens & Halske design as that used on the Vevey-Montreux-Chillon tramway (see Postcard), albeit using a single overhead tube with current return via the track. All the electrical installation was undertaken by the Swiss Compagnie de l'Industrie De Genève from their works at Secherons. The overhead consisted of a hollow rectangular copper tube 20-25mm diameter with an inside diameter of 15mm. There was a slot at the bottom edge of each tube, and inside slid a shuttle bobbin. This was connected to the tram by a flexible steel rope and insulated copper cable, and fixed to the centre of the roof via a steel tube.(see diagram below)

The first trams were a batch of 22 single-deck cars with open platforms. They had short wheelbase four-wheel trucks. A single Thury 25 horsepower motor drove one axle via a gear train. The second axle was driven by connection rods coupled to the driven axle. These underpowered trams were later upgraded.
In 1907 the tube overhead was replaced by conventional overhead and after 1913 there were various extensions, improvements and new rolling stock, bringing the extent of the tramway in 1923 to 18km of track with 40 trams and 38 trailers. After further modernisations and extensions, the tramway survived WW2 but due to increased competition closed on 17th March 1956, being replaced by motor buses. Since 2006 there has been a modern "tramway" system, in fact a Translohr "guided trolleybus".

Go to Postcard Of The Month Index




Reload Home if you linked directly to this page



Postcard of the Month is created by John R. Prentice © Copyright 2017