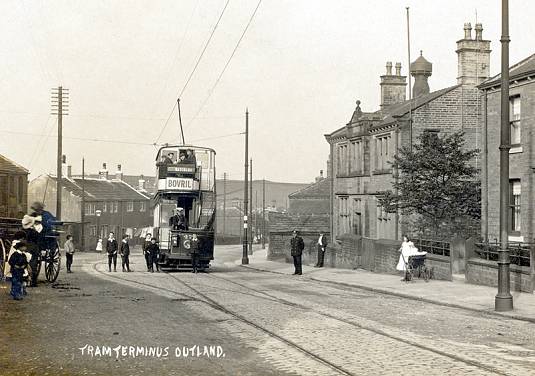 Huddersfield Car 47. Outlane tram terminus
Our postcard view shows the Huddersfield tram terminus at Outlane (not Outland, as erroneously written on the card). Huddersfield, in West Yorkshire, grew in prosperity in the 19th century from cloth-making and engineering. The town became the first municipal tramway operator in Britain and the first tramways, opened in 1883, were steam-hauled due to the hilly topography. The system also had the steepest steam tramway in Britain, at more than 1 in 12 in certain places. In 1883, there were plans for a cable tramway but, in 1884, the idea was abandoned.
Eventually, there were some 30 miles of steam tramways but, from 14th February 1901, they were quickly electrified. At maximum extent, the electric tramway comprised 38.7 miles of track on a gauge of 4ft 7¾in, which was designed (as in Glasgow and a few other places) to accommodate rim-running of standard-gauge railway trucks in the grooved rail. This enabled the use of the tramway for railway haulage by some local industries.
The route to Outlane, west of the town centre, was originally steam operated. Electric tram 47 on our postcard was built as an open-top car in 1902 by The British Electric Car Co. (BEC) but was soon fitted with a Milnes Voss 'Magrini' top cover. This was replaced in 1906 or 1907 by a cover built by the corporation in its own workshops, as seen in this view. Seating was 22 downstairs and 29 upstairs. The car originally had two 35hp 'Westinghouse 80' motors in a BEC SB60 truck and was fitted with 'Westinghouse 90M' controllers. Later in life, tram 47 received a Preston 21E truck and 35hp BTH GE58 motors.
The scene is at the Outlane terminus in New Hey Road, looking towards the town centre, with the tram about to leave for Waterloo, east of the town. The street view is substantially unchanged today. Behind the photographer, the single track went a short distance to Gosport Mill, principally for goods traffic.
The picture contains several points of interest. Huddersfield was one of the few British towns that fitted post-boxes to its trams and one (a Victorian box with the letters "VR") can be seen fitted to the left of the dash panel. The man in uniform on the right, on the pavement, may be the tram driver. As usual for this type of photograph, numerous young boys appear in the picture, two of which have that essential "must-have" toy of the times - a hoop.
The postcard is from an unknown photographer/publisher and was posted from Huddersfield in July 1908. Livery at this time was described as 'Indian red and cream'. The last new trams arrived in 1932 but, from 1933, the trams were steadily replaced by trolleybuses. The last tram ran on 29 June 1940 but the eight newest trams were sold to Sunderland in 1938. The replacing trolleybuses were themselves replaced by diesel buses in 1968.

Go to Postcard Of The Month Index




Reload Home if you linked directly to this page



Postcard of the Month is created by John R. Prentice © Copyright 2017