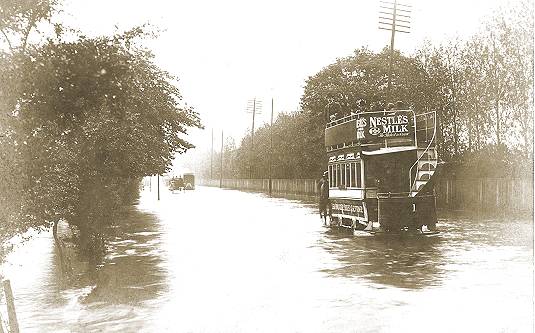 Lea Bridge, Leyton & Walthamstow Tramways, Lea Bridge Road 1903 Floods
Prior to flood prevention schemes of the 1950s, the River Lea in East London frequently broke its banks and flooded the surrounding district. While the 1947 floods were probably the most serious, those of 1903 are of interest to us as they were in the days of the horse trams, which were able to continue service in Lea Bridge Road despite the water being two feet deep at times. Our postcard from an unknown local publisher shows car 1 of the Lea Bridge, Leyton & Walthamstow Tramways on service near Lea Bridge in 1903. The two small views below are contemporary photographs at the same location, albeit one is a somewhat imaginative photo montage.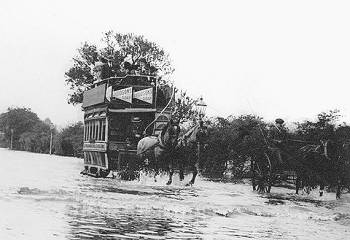 The Lea Bridge Leyton & Walthamstow Tramways Company tram system had a difficult start. The first company opened the line from Lea Bridge to Whipps Cross in 1883 with ten trams, mostly single-deckers, but only ran for about a year before going broke. A new company with the same name was formed in 1888 and began service on 13th May 1889 with a service of about three and a half miles along Lea Bridge Road and Forest Road from Lea Bridge to the Rising Sun, using twelve double-deck trams (1-12) possibly bought second hand from the North Metropolitan company.
A one and a half mile branch was opened on 31st March 1890 from the Baker's Arms along Leyton High Road to the Great Eastern Railway's station at Leyton. A final addition to the system was a half mile extension in 1892 to the west across Lea Bridge into London.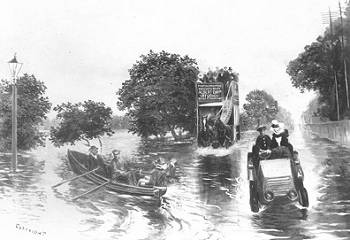 A further 16 trams, second-hand from North Metropolitan, were added to the fleet around the turn of the century. The tram livery was red and white. The system was single track with passing loops. The depot and stables were in Lea Bridge Road near the Baker's Arms. From 1890 to 1900 the tramway company also operated horse buses but as it was found that the company did not have the necessary powers to run buses, that side of the business was passed to a new company, the Great Eastern London Suburban Tramways and Omnibus Co. Ltd.
In 1905 the horse tramway company was taken over by Leyton District Council using powers of purchase provided by the 1870 Tramways Act. Leyton for the time being continued to operate the horse tramway themselves, but the tracks were soon doubled and Leyton electric services began on 1st December 1906. The short section of track to the west in the London area was purchased by LCC and leased to Leyton who continued with a horse service on it until 9th December 1908 when it was electrified.


Go to Postcard Of The Month Index




Reload Home if you linked directly to this page



Postcard of the Month is created by John R. Prentice © Copyright 2016