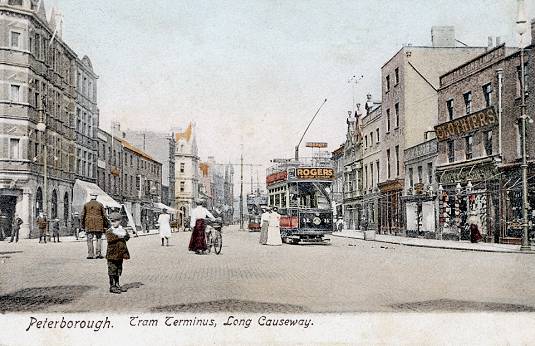 Peterborough Electric Traction Car 11, Long Causeway
The small city of Peterborough in eastern England was a sleepy market town, albeit with a notable cathedral built between 1118 and 1237, until the middle of the 19th century when the Great Northern Railway built a locomotive works just to the north of the town centre. The town grew, and in the 20th century brick making was a major industry. Today, it is a centre for various service industries but agriculture is still important.
There were plans and proposals for a horse tramway as far back as 1880 but nothing came of them. In 1899, the British Electric Traction Co. Ltd. (BET) obtained powers for electric tramways and construction of a 5.3 mile system of 3ft.6in. gauge proceeded during 1901 and 1902. The BET set up a local company, the Peterborough Electric Tramway Co. Ltd. (PET), to operate the tramway.
The first route to Walton was opened on Saturday 24th January 1903 with two other routes, all to the north of the city, opened by March the same year. The city centre terminus for all routes was in Long Causeway, comprising an elongated loop with a single-track stub for reversing the cars. A short extension to the main railway station (North Station) and extensions south over the River Nene never materialised.
The original fleet of 1902 comprised twelve Brush open-top trams seating 22 downstairs and 26 upstairs, reached by so-called reverse stairs. The cars were mounted on Brush 'A' four-wheel trucks, powered by two 17hp Brush 800B motors and using Brush H2 controllers.
Our postcard, published by Frith's in 1903, shows tram 11 at the Long Causeway terminus and about to leave for the depot, which was in Lincoln Road on the route to Walton. Tram 10 can be seen further behind waiting to enter the stub for its own return journey. Tram livery was 'lake brown and cream', although this hand-coloured postcard does not accurately show this. Today, Long Causeway is a pedestrianised area and the short road to the cathedral is off to the immediate right of this view.
In 1904, two additional trams arrived (nos. 14 and 15; there was never a passenger car with no.13!) which were mechanically the same as 1-12 but with bodywork differences - e.g. with four side windows instead of three and 'normal' stairs. These two trams were delivered by Brush after being diverted from Worcester.
The trams and tramway itself remained unchanged and unmodernised throughout their lives. PET buses took over from the trams on 4th August 1930 but, for legal reasons, one tram - known as the 'Ghost Tram' - ran on each route in turn until 15th November 1930. The tram depot became a bus depot and today is used by Stagecoach.


Go to Postcard Of The Month Index




Reload Home if you linked directly to this page



Postcard of the Month is created by John R. Prentice © Copyright 2016