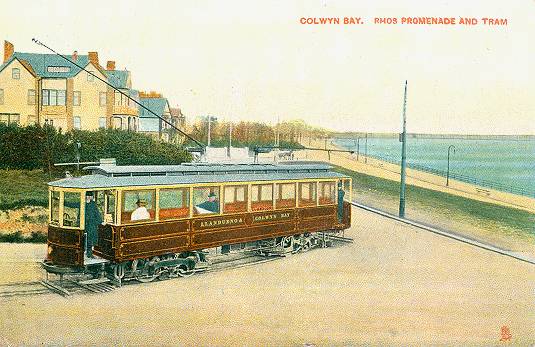 Llandudno & Colwyn Bay Electric Railway, Rhos Promenade, Colwyn Bay
This postcard shows a tram of the Llandudno & Colwyn Bay Electric Railway on Rhos Promenade, Colwyn Bay. It was published around 1909 by Raphael Tuck & Sons and is a "glazed view" in their Charmette series. It is one of twelve cards of the Colwyn Bay area in Tuck's set 4798. Our copy was posted in August 1909.
After several previous proposals, the Llandudno & Colwyn Bay Electric Railway opened on 19th October 1907 to Rhos and then extended in stages to join these two seaside resorts on the North Wales coast. Initially the line was 3ft 6in gauge single track with passing loops, but later most became double track. The depot was at Rhos. The line commenced at West Shore, Llandudno and then ran through the town to Mostyn Street. Turning east it followed the coast, apart from an inland section at the Little Orme, passing through Rhos-on-Sea to end in Abergele Road, Colwyn Bay. From 1915 an extension continued to Old Colwyn but this closed in 1930.
The tram in the postcard view is one of the fourteen cars (1-14) seating 42 and built in 1907 by the Midland Railway Carriage and Wagon Co. Ltd. of Shrewsbury. They ran on Mountain & Gibson 3ft 6in gauge equal-wheel bogies. Each car had four Bruce Peebles 30hp motors and used Bruce Peebles controllers. New cars were added including single-deck semi-convertibles and toastracks. In the 1930s single-deckers second-hand from Accrington and the favourite open-top double-deckers from Bournemouth joined the fleet. In 1946 two all-metal double deck-cars were bought from Darwen. For examples of these other tram types see Historical Photos. The company livery was maroon and cream until 1933 when it became green and cream.
In early post-war years business revived and the line was a great favourite with enthusiasts, but serious bus competition killed off its trade and the tramway closed on 24th March 1956. Some enthusiasts, including a number of Tramway & Light Railway Society officers, considered some form of preservation along the lines of the Talyllyn Railway, which had been taken over and had been operated by volunteers since 1951, but this came to nought. Had the tramway survived a little longer, it might have become a great heritage tourist line due to the very scenic nature of the route but alas...


Go to Postcard Of The Month Index




Reload Home if you linked directly to this page



Postcard of the Month is created by John R. Prentice © Copyright 2016