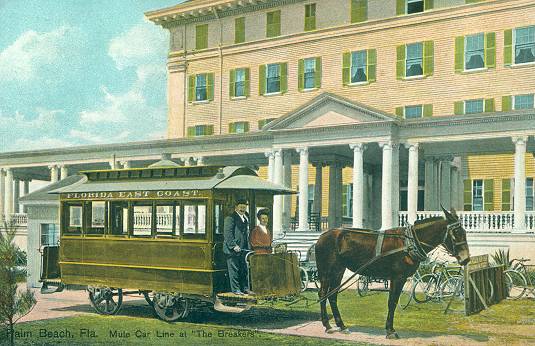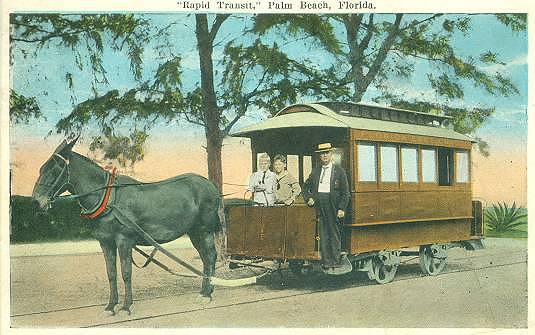 Florida East Coast Railroad, Palm Beach Mule Tram
We have two main postcards this time, both showing the same tram but from opposite sides. The first view is outside the Breakers Hotel. It dates from around 1915. It was published by the Hugh C. Leighton Co. of Portland, Maine and was printed in Germany. On the rear is a statement on the uniqueness of mule power coupled with comment on the ethnic mix of the area in terms that today we cannot repeat. O tempora, O mores!
The second card is sarcastically titled "Rapid Transit", Palm Beach, Florida and was published by E.C. Kropp Co. of Milwaukee. This one is a little later in the 1920's, our copy being posted in 1927. The rear caption here says, "In this age of speed, it is restful to travel on this railway of an earlier generation. The kiddies have lots of fun in acting as drivers for this old style automobile, which during the season runs, or rather ambles between the famous Royal Poinciana Hotel and the equally well known Breakers Beach.
The first of the small views below is of the Palm Beach tram from a postcard of 1908 from the Detroit Photographic Co. The second, from an old photograph of 1915, is of a similar car owned by the same railway company.
The Florida East Coast Railway was created by American tycoon Henry Morrison Flagler. He was John D. Rockefeller's partner in Standard Oil. He went on to move into real estate and saw the huge potential in developing Florida into the holiday destination it is today. He took over existing Florida railroads and renamed them as the Florida East Coast Railway Company on September 7, 1895. With extensions and branches, by 1912 the railway ran from Jacksonville in the north to Miami and Key West in the south, much of which still operates today.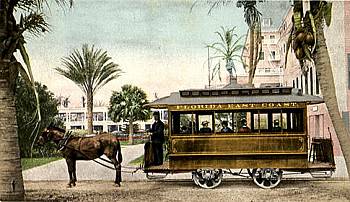 As the railway grew, Flagler acquired land and built hotels, including the two mentioned on the postcards. The railway reached West Palm Beach in 1894. A short branch from here to the east over a trestle bridge across Lake Worth Lagoon ran onto Palm Beach Island and to his two hotels there, Royal Poinciana and The Breakers. The branch was closed in 1902, it is said at the request of Flagler's wife Mary, who complained about the noise and smoke from trains disturbing the tranquillity at their mansion, Whitehall, which was close by. The route on the island remained and was served by mule tram (left), as our cards show, until the 1920s.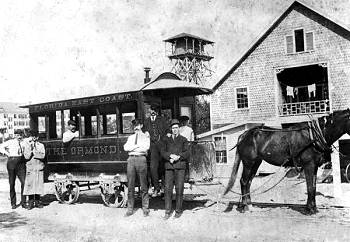 A similar mule tramway connected the railway with the Ormond Hotel, north of Daytona at Ormond Beach, a hotel which Flagler had bought and expanded. The tram here (right) was very like the one at Palm Beach and probably ran from the 1890s until the late 1910s.


Go to Postcard Of The Month Index




Reload Home if you linked directly to this page



Postcard of the Month is created by John R. Prentice © Copyright 2016