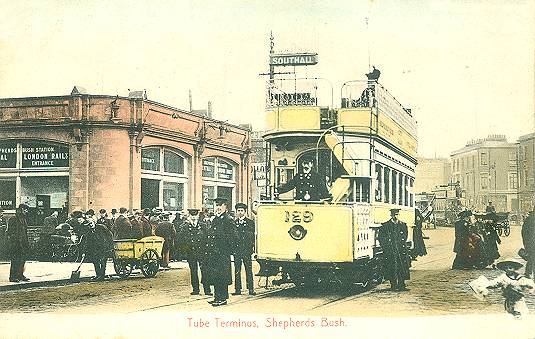 London United Tramways Car 129 at Shepherd's Bush "Tube Terminus"
Although we have described the location and tram class before, this fine postcard is worthy of inclusion in our series. The view dates from around 1903. We have a black and white version posted on 7th May 1904 and this colour version, which was produced a little later, was posted on August 25th 1906. It was published by Ainger & Davis of 59 Uxbridge Road, which was about 400 yards west of the tram terminus and where the trams would have passed the door.
The tram is in service on the route along Uxbridge Road from Shepherd's Bush to Hanwell and Southall via Acton and Ealing, which opened on 10th July 1901. After this photograph was taken the extension of the route to Uxbridge opened on 1st June 1904. The card caption says "Tube Terminus" because the building to the left is the Shepherd's Bush terminal station of the "2d. Tube" (two old pence - the fare), which opened to Bank on 30th July 1900 and now forms part of the Central Line. After the LCC adopted route numbers in late 1912, LUT did likewise and the Shepherd's Bush to Uxbridge line became route 7.
Tram 129 is of the series 101-150, known after 1914 as type "X". They were built in 1901 by Geo. F. Milnes, with "maximum traction" trucks by McGuire. They had two 25 horse power Westinghouse 49B motors and Westinghouse 90M controllers. They seated 69, 30 on the lower deck, 39 on the upper. Originally the colour for this route was white with blue and gold lining, the actual condition in this postcard view, but in 1904 when the route was extended from Southall to Uxbridge they were repainted mid-chrome yellow and white. The card publisher seems to have tinted the tram yellow to reflect this later condition.
Like the rest of London's tramways, the LUT became part of London Transport in 1933. Route 7, by then running modern Feltham trams, was converted to trolleybus operation on 15th November 1936 as route 607. Trolleybuses were in turn replaced by Routemaster diesel buses on 9th November 1960 as route 207. This route number still exists today for the section as far as Hayes and ironically the number 607 has been reintroduced for the full route to Uxbridge.


Go to Postcard Of The Month Index




Reload Home if you linked directly to this page



Postcard of the Month is created by John R. Prentice © Copyright 2016