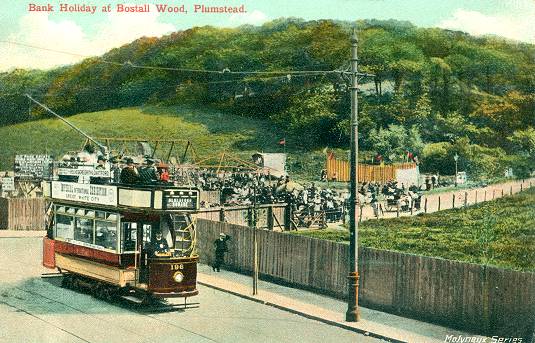 London County Council Car 196, Plumstead
The caption on our postcard says "Bank Holiday at Bostall Wood, Plumstead" and shows L.C.C. B class car 196. The card was published by J.J. Molyneux of Woolwich, our copy being posted in August 1910, but the photo was taken on one of the summer Bank Holidays of 1909. We can tell that as the poster on the tram is advertising the Imperial International Exhibition which was held at White City between May and October of that year. This was the second exhibition held at White City, following the Franco-British Exhibition of 1908.
The route shown was opened from Woolwich to Plumstead on 17th April 1908, being extended to Abbey Wood on 26th July. Previously it had been a 3ft. 6in. gauge horse tramway opened in 1881 by the Woolwich & South East London Tramways Company. It passed into the hands of the L.C.C. in 1905 and was converted to standard gauge on electrification. The horse car depot at Plumstead was converted to electric and used to house these early cars until 1913.
Open top B class trams with trolley poles like 196 were very rare indeed. In fact there were only eight out of the class of 100 B class cars (numbered 102-201), being 104, 118, 124, 149, 170, 181, and 196 (there were also four D class open top bogie cars so fitted), and they were used only for working the Plumstead route from 1908 until 1910 when they were replaced by enclosed top cars. In this condition the eight trams had direct stairs and were classified as B-4.
The hundred B Class trams were built as open top with reversed stairs but in stages by 1914 all had received fully enclosed top covers and direct stairs. They were constructed in 1903 by the Electric Railway & Tramway Carriage works of Preston. They ran on 6ft. 6in. wheelbase 4-wheel Brill 21E trucks fitted for conduit current collection. They had Dick, Kerr DB1 form D controllers and two Dick, Kerr 25A 25 horsepower motors.
Our tram 196 was one of a small number sold circa 1918 to nearby Bexley Council for use on their local tramways, by then having been fitted with its top cover. Together with the other London tram routes, the Plumstead line passed into the control of London Transport in 1933 and was in use until the closure of the tramways on 5th July 1952. Although not true to its original conduit only condition, L.C.C. B class tram 106 preserved at the National Tramway Museum at Crich in Derbyshire is fitted with a trolley pole in a similar style to 196, to enable it to be run using overhead wires there.


Go to Postcard Of The Month Index




Reload Home if you linked directly to this page



Postcard of the Month is created by John R. Prentice © Copyright 2015