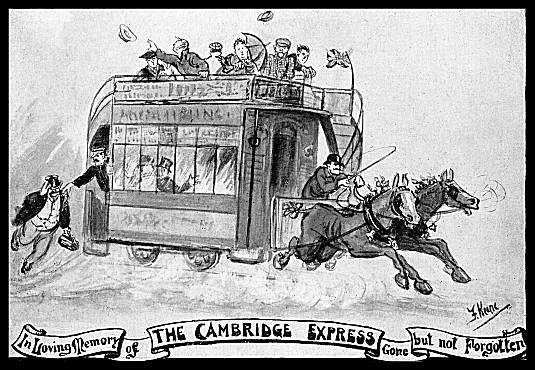 Cambridge Street Tramways
This comedy postcard was issued at the closure of the Cambridge tramway in February 1914 and as it says, "In Loving Memory of The Cambridge Express, Gone but not Forgotten". The drawing is by Frank Keene, who together with Harry A. Moden drew cartoons for their Cambridge Picture Postcard Company's Topical Series. There is some irony in the picture as it shows a tram pulled by two horses rushing along, whereas Cambridge was renowned for using single horses and being very slow.
The two small views below are from unknown publishers. The double deck tram is car 7 in St. Andrews Street at the Post Office terminus around 1910. The single deck tram is car 5 in East Road and the view was taken on the last day of tramway operation, 18th February 1914. It is outside the shop of E.O. Brown, a former Cambridge mayor, who commissioned the photograph. The tram driver is recorded as being Benjamin Sharp. The horse was Corporal, who had served in the Boer War around 1902 and had a bullet hole in his ear received in that conflict. Further views of the Cambridge trams can be seen in our Historic Photos section. In the cartoon cards below Frank Keene (FK) and Harry Moden (HM) mock various tram and bus related incidents.
The railway station in Cambridge is over a mile from the city centre so it is not surprising that trams were considered to connect them. In 1878 two proposals were put forward, one for an extensive narrow gauge network and one for a simple standard gauge tramway. It was the latter that was accepted albeit revised to narrow gauge and the Cambridge Street Tramways Company was formed the following year, with the Cambridge Street Tramways Act receiving Royal Assent on 21st July 1879, construction work having commenced a two weeks earlier.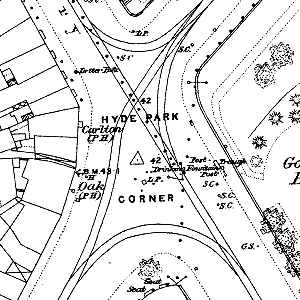 The actual gauge used was 4ft and the system consisted of two routes totalling 2.67 miles of single track with passing loops. It used 71 lb per yard girder rail spiked to transverse sleepers, substantial for a horse tramway but possible steam operation in the future was anticipated. The road area immediately adjacent to the rails was laid with granite sets and the rest in tarmac. With a construction speed typical of those days, but so rare today, the first line opened for traffic on 28th October 1880. This ran from the Railway Station, along Station Road and Hills Road (where there was a short section of double track) to Hyde Park Corner, then along Regent Street and St. Andrews Street to terminate by the Post Office. The second route opened a few weeks later and ran from East Road (by Fitzroy Street) and Gonville Place to Hyde Park Corner then along Lensfield Road, Trumpington Road, Trumpington Street and Kings Parade to end at Market Hill. At the crossroads at Hyde Park Corner there was a junction which allowed trams to turn in three of the four possible directions (see plan). The passing loops were at the north end of Lensfield Road, in Station Road, at the north end of Regent Street, in Gonville Place and in East Road just south of the depot. Two extra loops on the Post Office route were added in 1909 at Emmanuel College and in Regent Street. There were two tracks at the termini at East Road and Market Hill.
The depot, stables and offices were, and still are, at 184 East Road, although prior to the two track depot building opening in 1881, trams and horses were kept at the goods yard of the Great Northern Railway. Work commenced on the stables on 20th October 1880 and the Cambridge Chronicle & University Journal at the time stated that there would be "ample room for between 20 and 30 horses, together with smithy, washer's room, corn and hay stores, and a large car shed, and suitable accommodation for the use of the Company", the latter being for offices and a dwelling for the Traffic Manager, and the hay store being the upper floor of the car shed. A small building adjacent to the car shed was a ticket office. In 1883 early company profits were spent on improving the quality of the stables to hold the by then enlarged stock of horses. On 13th May 1914, after the tramway closed, the buildings were sold. The depot was used by V.Prior as a fish market until 1928 and then became a corn-chandlers. From 1938 it was used by a motor engineering company. From 1944 it was used by Peaks furniture dealers as a depository. By the 1970's the buildings had become derelict. At some point the smithy was removed and in the 1980s the ticket office, which until then had been used as a shop, was demolished and that area redeveloped as new offices. However in the 1980s the three remaining tramway buildings, the car shed, the offices and the stables were very extensively renovated and today form offices, a restaurant and a public house respectively.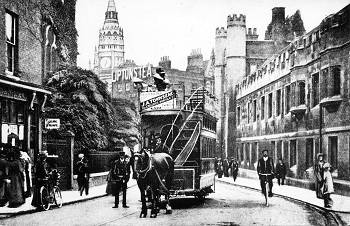 The rolling stock consisted of eight trams built by the Starbuck Car & Wagon Co. Ltd. of Birkenhead. Six were supplied in 1880 for the opening of the tramway, 1 & 4 being double-deck, 2 & 3 single-deck (converted to double-deck prior to 1900), and 5 (below right) & 6 single-deck with a partition to provide a luggage area (removed 1892). In 1892 cars 1-4 received new wheels, and running gear with noiseless springs to improve riding. Double-deck car 7 (left) was purchased in 1894, ex Bradford and Shelf (who had added the upper deck seats and used it as a steam tram trailer), previously ex Bath. The body of this tram still exists and is under restoration at the Ipswich Transport Museum. Double-deck car 8 arrived in 1909 and was most probably also second-hand. The livery was red and cream. Early views show that the single deck cars originally had cream dashes, whereas in later view all cars have red dashes. Trams, including the double-deckers, were pulled by one horse as the tramway had no inclines, and although at times there were complaints from certain members of the public about this, it seems the horses were all very well treated.
In 1898 the British Electric Traction Company (BET) showed interest in the tramway and in 1900 bought shares, the BET's Emile Garcke joining the tramway's board of directors. Negotiations with Cambridge Corporation with a view to electrification and expansion of the tramway were not successful due to local opposition and in 1904 BET sold their holdings to the Cambridge Electric Tramways Syndicate Ltd, which was associated with the local Cambridge Electric Supply Company. Proposals based on a report by consultants Kincaid Waller, Manville & Dawson for some nine miles of route, including possible stud or conduit operation, were approved by the Council, but were dropped when no agreement could be reached for the new company to purchase the existing tramway. Cambridge was to remain a horse tramway until its closure.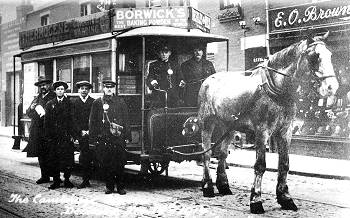 From 1896 there was competition from horse buses of the Cambridge Omnibus Company, the tram company themselves responding by introducing four buses but this ceased by 1900 when the tramway company sold its buses to the bus company who in turn agreed not to compete on the tramway's routes. In 1905 the first motor buses appeared from two companies, the Cambridge Town and University Motor Omnibus Company (the Cambridge Light Blues) and the Cambridge Motor Omnibus Company (CMOC - livery dark blue), but these only lasted for a few months and were withdrawn after a number of accidents. However in 1907 the Ortona Motor Company (livery leaf green with red wheels), having taken over the CMOC, commenced successful operation and eventually became part of Eastern Counties Omnibus Co. Ltd.
Obviously elderly horse trams could not compete with modern motor buses and tram profits fell. By 1912 and subsequently for the next two years the tramway company were unable to pay the rates to the corporation for the upkeep of the highway, a duty that had been taken over from the tramway for an annual fee from 1892. As a result the company went into liquidation and was wound up. The last tram ran at 6.25 pm from the station on Wednesday 18th February 1914, driven by Ephraim Skinner who had driven for the company for 34 years. The trams, horses and other items were sold by auction at the depot on the following Friday.


Cambridge up to Date. 1905. FK
The first motor buses had such accidents and were unpopular.


A bit of Old Cambridge. 1905. FK
The run down tramway at the date of motor bus introduction.


Death of the Cambridge Motor Omnibus. 1906. FK
Withdrawal of first buses. On the side of the tram it says "A bit of old Cambridge - Still Running".


Return of the Cambridge Terror! 1907. FK
Motor buses return to service.


An Electric Shock. 1911. HM
Havoc caused by an electric tram if electrification proposals had been adopted. On the tram it says "Station to Market Hill, One Minute". The card is dated by the Blériot Monoplane which landed in Cambridge in that year.


The Attack on the Tram. 1912. HM
November 5th Undergraduates Rag. The first of three rag cards that year, the other two being "Storming the Bridge" and "The Station Raid".
Rolling Stock Details
The initial six new cars from Starbuck are described as being 21ft 8in long, 6ft 1in wide and 10ft 8in high (to roof or upper-deck floor) and cost £300 each. The prices they fetched when auctioned at the closure in 1914 are given below (in modern decimal currency). Cars 1-4 were re-trucked in 1892.
1. Double-deck, round dashes, 7 windows per side. Seating 18 inside on longitudinal seats and 23 on top on garden seats (probably originally knifeboard seating). Sold for £10.
2. Originally single-deck, converted to double-deck prior to 1900, flat dashes, 7 windows per side. Seating 18 inside and 24 on top on knifeboard seats. Sold for £8.50.
3. Originally single-deck, converted to double-deck prior to 1900, round dashes, 6 windows per side. Seating 18 inside and 22 on top on knifeboard seats. Sold for £8.50.
4. Double-deck, round dashes, 6 windows per side. Seating 18 inside and 22 on top on knifeboard seats. Body almost identical to car 3 as converted. Sold for £8.75.
5 & 6. Single-deck, almost flat dashes, 5 windows per side. Seating 18. Originally had a partition in line with the third window pillars to provide a small room for students and luggage, removed in March 1892. Sold for £7.75 each
7. Double-deck, round dashes, 7 windows per side. Seating 18 inside and 23 on top on garden seats. Bought second hand in 1894. Built as single-deck in 1880 for Bath Tramways. Passed to Bradford & Shelf steam tramway in 1885 for use as a trailer, who added the top deck seating around 1890. Sold for £9.75.
8. Double-deck, round dashes, 5 windows per side. Seating 18 inside and 22 on top on garden seats. Bought in 1909 (or 1910) for £160 and at this late date almost certainly second-hand. Sold for £15.

Go to Postcard Of The Month Index




Reload Home if you linked directly to this page



Postcard of the Month is created by John R. Prentice © Copyright 2014