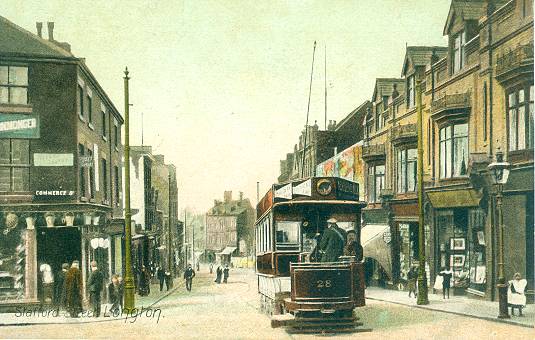 Potteries Electric Traction Car 28, Stafford Street, Longton
This postcard is in the Wrench series and is card No. 15,966 in their range. It shows tram 28 in Stafford Street (today called The Strand), Longton at the junction with Commerce Street and the view dates from about 1910. Our copy of the card was posted in January 1913.
The Potteries consists of the towns of Stoke-on-Trent, Burslem, Fenton, Longton, Tunstall and Hanley, all now part of Stoke county borough. The first tramway in the area was that from Hanley to Burslem, being the 1.5 mile section actually built as part of an 8 mile proposal from the infamous George Francis Train. It was opened on 11th January 1862. It was a standard gauge horse tramway using Train's notorious step rails, but these were replaced by grooved rails in 1865. The line was operated by the Staffordshire Potteries Street Railway Co. Ltd.
The North Staffordshire Tramways Co. Ltd. took over the horse tramway on 8th November 1879 and operated it until its own steam tramway could replace it. The first steam trams ran in April 1881 with the tramway expanding to just over 6.5 miles built to 4ft gauge. In its turn the steam tramway was taken over on 28th June 1898 by the Potteries Electric Traction Co. Ltd., part of the British Electric Traction (BET) group. On 15th May 1899 the first electric trams ran, steam operation being withdrawn on the network soon after as lines were electrified. The network expanded to nearly 32 miles of mostly single track, with trams running throughout the towns and radiating from Stoke (where the main depot was located - one of four), with lines to as far away as Newcastle-under-Lyme and beyond.
The deep red and cream rolling stock consisted of 115 electric trams plus some trailers from various sources, both 4-wheel and bogie cars, but all single-deck. There were also a number of goods wagons for a parcel service, and works cars. Car 28 in our view was from the order for 4-wheel cars from the Brush Electrical Engineering Co. Ltd. of Loughborough which consisted of 20 motor cars and 20 matching trailers, all built in 1899. However the initial delivery was 17 motor cars and 11 trailers. The balance of the order followed, but the outstanding trailers were electrified either before delivery or soon after. They were all mounted on Peckham 9A Cantilever trucks and seated 28 passengers. The first 17 motor cars each had two BTH GE800 20 horsepower motors and BTH K10 controllers. The remaining motor cars, of which our car 28 was one, were fitted with two 23 horsepower 33N motors and S7 controllers, both from the Walker Electrical Company of Cleveland, Ohio, USA.
Due to intense competition from bus operators in the 1920s, the company replaced the tramway with its own fleet of buses, the last tramcar running on 11th July 1928.


Go to Postcard Of The Month Index




Reload Home if you linked directly to this page



Postcard of the Month is created by John R. Prentice © Copyright 2014