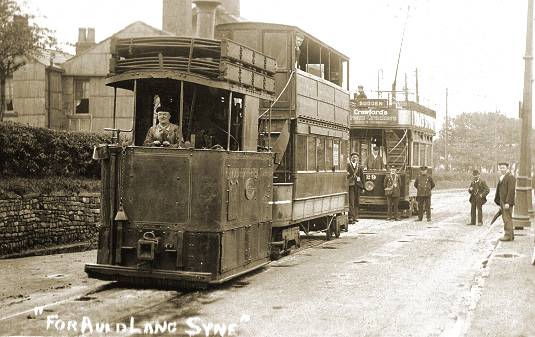 Heywood Corporation Steam Tram Engine 63
This real photographic postcard by an unknown publisher shows the final days of the Heywood Corporation steam tramway in 1905. Just behind is Rochdale Corporation electric car 29 at the borough boundary south-west of Rochdale at the Sudden terminus where Rochdale Road and Bolton Road meet.
The postcard bears the appropriate title "For Auld Lang Syne", thereby clearly indicating the imminent demise of the steam tram service. Although not posted, someone has written on the back, "see if you can find Robert Holt on this card". We suspect he might be the young lad looking out of the top deck of the steam tram trailer or on top of the Rochdale car behind, but we will never know.
Heywood, one of the many cotton-mill towns of south Lancashire, lies about 8 miles north of Manchester, 3 miles east of Bury and 4 miles south-west of Rochdale. Tramways of this area have a complex history but the Manchester, Bury, Rochdale and Oldham Steam Tramways Co. Ltd. (MBRO, founded c.1883) became the second largest steam tramway operator in Britain with over 90 tram engines, 80 double-deck passenger trailers and 30 miles of routes. Of all these, two-thirds of stock and track were narrow gauge (3ft 6ins), including the section between Bury and Rochdale, through Heywood, opened by 1885.
In 1904, Bury Corporation withdrew its steam tram service to Heap Bridge (west of Heywood) when the line was electrified. Within a few weeks, Rochdale Corporation replaced its steam trams with standard gauge electric cars but only as far as the district of Sudden, a three-quarters of a mile walk to and from the Heywood borough boundary and the steam tram terminus. In December 1904, Heywood Corporation decided to run its own steam tram service by buying 13 tram engines and 10 trailers (by then, 20 years old) from the former MBRO company when it closed down.
In April 1905, Rochdale extended its electric service at Sudden to the Heywood boundary in Bolton Road to establish a direct transfer to the Heywood steam trams. Later the same year, on September 20th 1905, the last steam tram ran and the through service was converted to standard gauge electric operation using Rochdale and Bury cars. Thus, as a tram operating municipality, Heywood Corporation Tramways was very short-lived and lasted less than a year; something of a record in British tramway history.
In our postcard, almost certainly dating from September 1905 (perhaps even on the last day of operation), we see Heywood Corporation steam tram engine no.63 of 1886 and built by Beyer, Peacock. The trailer dates from about the same date and was probably built by Falcon. It would have seated 26 on each deck.
Rochdale Corporation double-deck car no.29, seen behind, was built by Brush in 1905 using a Brush Conaty 4-wheel radial truck and Brush electrical components, including two 25hp motors. It seated 22 downstairs and 33 on the open top deck. In 1930, this car was fitted with an open-balcony top cover built by English Electric. Not long afterwards, the Rochdale tramways closed on November 12th 1932 to be replaced by corporation buses.
Rochdale Corporation and other municipal and regional transport undertakings of the area, relinquished their bus operations on November 1st 1969 upon formation of the awkwardly named 'South East Lancashire North East Cheshire Passenger Transport Executive', a.k.a. SELNEC PTE. This in turn became the 'Greater Manchester Passenger Transport Executive', or GMPTE, from 1974 to 2011. Since then, transport in this large area has been managed by 'Transport for Greater Manchester' (TfGM).
As far as Rochdale is concerned, trams have returned since the February 2013 opening of the Oldham to Rochdale Station section of the Manchester Metrolink tramway system. In March 2014, a short extension, running partly on street, to Rochdale city centre was opened. That means it is now possible to travel by tram from Rochdale to Bury for the first time in some 80 years, but not via Heywood. One has to go from Rochdale to Manchester and then change trams for one to Bury - rather a long detour!


Go to Postcard Of The Month Index




Reload Home if you linked directly to this page



Postcard of the Month is created by John R. Prentice © Copyright 2014