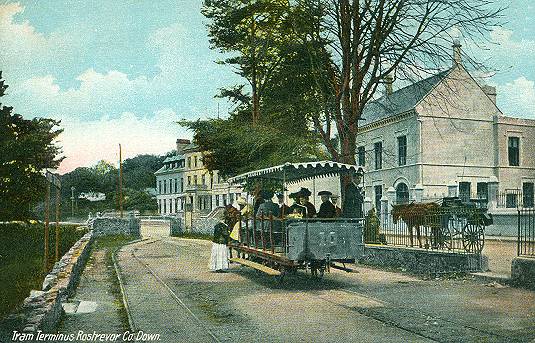 Warrenpoint and Rostrevor Tramway Car 10, Rostrevor Terminus.
This postcard was published by Lawrence of Dublin in about 1905 and was printed in Germany. It shows open toastrack tram 10 at the Rostrevor terminus of this roadside horse tramway in County Down, Northern Ireland.
The tramway company, formed on 6th September 1875, was promoted and until 1884 owned by Francis Needham, 3rd Earl of Kilmorey. The line was built to 3 foot gauge (possibly 2ft 10in - sources vary) and ran for 3.3 miles of single track with passing loops from its own canopied platform at the GNRI railway station at Warrenpoint to quay at the seaside resort of Rostrevor, where it terminated outside the Great Northern Hotel (formerly the Mourne Hotel), the location of our postcard. It mostly followed the north shore of Carlingford Lough, an inlet off the Irish Sea. It opened for service in June 1877. Fares in 1890 were 6d single and 9d return for first class, 4d single and 6d return for 3rd class.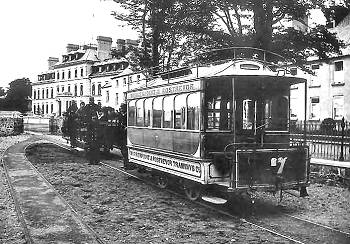 Rolling stock consisted of 13 horse trams, ten being open toastracks, some fitted with canvas canopies like the one in our postcard, and three enclosed single-deckers (cars 2, 6 and 7) as in the view of car 7 (left). The trams were painted in a variety of colours.
In 1894 there was a plan to extend the line five miles to Greencastle and in 1908 a scheme to take over the tramway, electrify it and extend it to Newcastle, County Down, but neither extension was pursued. In February 1915 a gale destroyed part of the track and the tramway was forced to close, the cars being sold off in June of that year.


Go to Postcard Of The Month Index




Reload Home if you linked directly to this page



Postcard of the Month is created by John R. Prentice © Copyright 2014