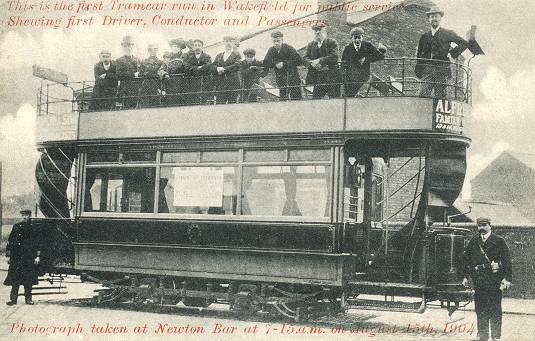 Wakefield & District Light Railways Company, First Tram 1904
Our postcard has its own extensive caption to describe the scene we see. "This is the first Tramcar in Wakefield for public service. Shewing first Driver, Conductor and Passengers. Photograph taken at Newton Bar at 7-15.a.m. on August 15th 1904". It was a Monday. The large notice in the side window announces the opening of the tramway for public service.
Newton Bar is ¾ mile north of the city centre. The first test run had been on Friday 22nd July 1904 with car no.13 but in our postcard, the first service car just over three weeks later appears to have been no.12. The card was published by W.C.Machan, of 234 Kirkgate, Wakefield.
The city of Wakefield, renowned at the time for coal and textiles, lies in West Yorkshire, about 8 miles south of Leeds. During 1901 and 1902, the Wakefield and District Light Railway Company obtained powers to construct 15½ miles of standard gauge tramway centred on Wakefield but including a line north towards Leeds, meeting that system at the city boundary at Thwaite Gate.
The first 30 trams were open-top double-deck cars built by the Electric Railway & Tramway Carriage Works Ltd. of Preston, exactly as seen in our postcard. They seated 22 downstairs and 34 on top, were mounted on standard Brill 21E four-wheel trucks equipped with two 25hp Dick Kerr motors and operated by Dick Kerr DB1 Form C controllers. Typically for the period, cars had the luxury of curtains for the downstairs windows. As delivered, the tramcar livery was crimson lake and cream.
Within a few months, on April 4th 1905, the company was taken over by the Yorkshire (West Riding) Electric Tramways Co. Ltd., which proceeded to build some of the remaining authorised lines. A through service to Leeds was opened in June 1905 which had a rural, interurban, flavour for several miles, including sections through open countryside. The company also built nearly 8 miles of tramway based at nearby Castleford but, although authorised, a four-mile link to join the separate tramways was never built.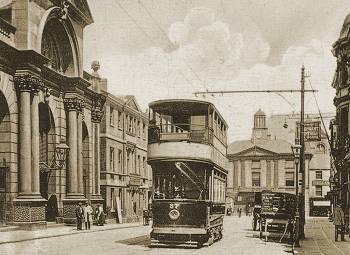 Pontefract was the terminus of a four-mile tramway from Castleford and our second postcard image (left) shows car 37 at the Market Hall terminus in Market Street, Pontefract, c.1908. This is one of the second batch of cars, 31-55, built with top covers and open balconies in 1905. This particular car was one of eight destroyed in a depot fire at Castleford in 1917.
Another 37 trams of slightly different types were added to the fleet in 1905 and 1906 to serve both sections and the various extensions. The original 30 cars were top-covered between 1911 and 1914. Eight cars were acquired second-hand from Leeds to replace cars lost in the depot fire.
The separate Castleford area tramway was closed on November 1st 1925 and the Wakefield-Leeds services stopped on May 31st 1932. The last company-operated tram route, from Wakefield to Ossett, was closed on July 25th 1932. From then onwards, all services were operated by 'West Riding' buses, owned by the West Riding Automobile Company, until the 1960s when operations transferred to the National Bus Company.


Go to Postcard Of The Month Index




Reload Home if you linked directly to this page



Postcard of the Month is created by John R. Prentice © Copyright 2014