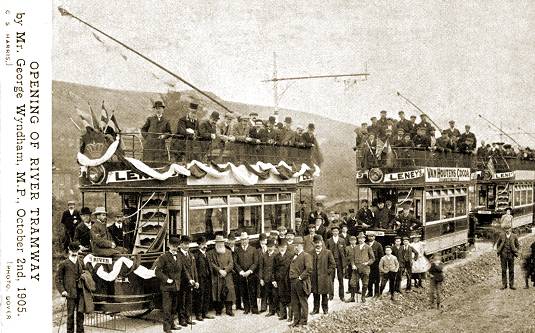 Dover Corporation, Opening of the River Tramway Extension 1905
Our postcard shows a line-up of four trams at the River terminus, at the northern extremity of the Dover Corporation tramways on Monday October 2nd 1905. The actual river, along which much of this route ran, is the Dour from which the town gets its name. This extension from Buckland was officially opened by Mr George Wyndham, the local MP from 1889 to his untimely death in 1913 at the age of 49. This postcard was published by Charles Harris of 77 London Road, Dover.
The ancient town of Dover (Dubris/DVBRIS to the Romans) lies in the far south-east of England and remains a major gateway to and from the continent. Early mainline railways direct to the docksides for both passengers and freight made ferry connections easy and profitable. The first railway into Dover was built in 1844.
Electric trams also arrived very early (there was never a horse tramway) with the first plans being passed in 1895. Construction by Dick, Kerr & Co. of Preston began in March 1897 using narrow (3ft. 6in.) gauge. This was the company's very first contract for building an electric tramway. The main line, from Admiralty Pier via Market Place, town centre and terminating at Buckland (where the main depot was located) opened on Monday September 6th 1897. This made Dover one of the earliest towns in Britain to have an electric tramway.
Original rolling stock comprised ten double-deck cars built by Brush using Peckham 6ft wheelbase cantilever trucks imported from America and fitted with two 25hp GE800 motors and GEC K2 controllers. Two of these cars were delivered as trailers but quickly motorised. Another six cars arrived in 1898, four from Milnes and two from Brill. All of these early cars seated 20 inside and 24 upstairs.
Cars 18-21 were delivered in 1905 for the River extension and were built by the United Electric Car Co. Ltd. on Brill 21E 6ft wheelbase trucks with Dick Kerr electrical equipment. Our main postcard shows car 21 on the left and three others (probably 18-20) in the background. This extension was on double track and much of it was on reservation, unusual for its time. During WW1, one of the tracks was lifted and the rails used elsewhere.
There had been plans to link with the Isle of Thanet tramways to the north but they came to nothing. The next nearest electric tramway was about 25 miles away in Calais, which today is Dover's twin town. With a route westwards along Folkestone Road (also including an additional depot), the total route mileage was a modest 4.3 miles.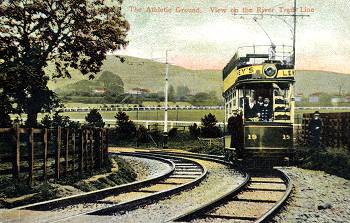 Our second image shows car 19 in 1905 or 1906 at the beginning of the reserved track out of town on what is now Crabble Road. It is approaching the Crabble Lane crossing en route to River. The scene is not greatly different today but the view shows the original livery of green and ivory. This postcard was published by A.Faulkner of Buckland, Dover.
In the 1920s and 1930s, second-hand trams were acquired from West Hartlepool, Darlington and Birmingham. By this time, the livery had changed to red and ivory but the ex-Birmingham cars retained their blue and cream colours. The slightly newer rolling stock failed to breathe new life into the system for very long and the last tram ran on December 31st 1936.


Go to Postcard Of The Month Index




Reload Home if you linked directly to this page



Postcard of the Month is created by John R. Prentice © Copyright 2014