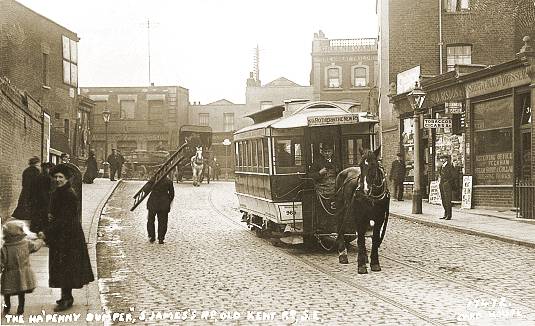 London County Council Car 36, "The Ha'penny Bumper"
Our intriguing real photographic postcard shows LCC horse tram no. 36 at the St. James's Road (Canal Bridge) terminus of the short route to Raymouth Road in SE London. Old Kent Road is in the background. It takes little imagination to understand why the tram was called the "Ha'penny Bumper" - a ½d fare over poor or indifferent track. The postcard (serial no. 17472) was published by 'Card House' of nearby Camberwell in around 1911 but was posted from Peckham, also nearby, to Hemel Hempstead in September 1913. The shop on the extreme right is that of Charles Cox, "Shirt & Collar Dresser" of 364 St. James's Road, and next to it is James Risdon's tobacconist, sweet and newspaper shop at no. 366 - perhaps this actual postcard was bought there by the sender, Frank.
The driver is a smart, moustachioed, elderly gent dressed in dark jacket with collar and tie, and wearing a derby hat. He is also wearing a large, waxed or leatherette apron against the elements - or to protect himself from the rear end of the horse! Judging by what everyone else in the picture is wearing, this is not a scene taken in high summer.
This tram route, from St. James's Road eastwards to Raymouth Road, was just over 2/3 mile long with single track and three passing loops. It started life in 1882 when the Southwark & Deptford Tramways Company added this branch from Raymouth Road as part of a second phase to their original standard gauge tramways built in 1879-81, from the "Bricklayers Arms" in Bermondsey, south-east through Rotherhithe and on to Deptford. The route was operated with one single-deck, one horse tram of this type, which seated 22 passengers. Only 5 or 6 of these single-deck cars were built for the company in 1880 by the Metropolitan Carriage & Wagon Co. of Saltley, Birmingham, but some 26 double-deck cars were supplied for other routes. Another 1881-2 extension was from Bermondsey to Tooley Street near to Tower Bridge, although construction of the bridge did not start until 1886 (opened in 1894). By 1893, the company name had changed to "The London, Deptford & Greenwich Tramways Company". Under provisions of the 1870 Tramways Act, the LCC acquired the company by 1904, by which time there were just over 7 route miles of track and over 40 horse trams in service. The LCC proceeded to expand and electrify the former company tramways in the area.
Horse trams of the separate London Tramways Company operated along Old Kent Road (the trams here sometimes being known as "Threepenny Bumpers") but there was never a track connection between the two at this junction. The St. James's Road - Raymouth Road route was never electrified and closed in July 1913 (just prior to our card being posted), but horse trams on some other former company lines around here lasted until 1915. Electric trams in this area ran until the very end of London trams in July 1952.
Our postcard scene is unrecognisable today. All the buildings in view have long disappeared and St. James's Road is now a dual carriageway at this point, with a traffic light junction to Old Kent Road, also a dual carriageway. London bus route 381 still uses this section of St. James's Road but the only shop anywhere near is a large, well-known computer store off to the left.

Go to Postcard Of The Month Index




Reload Home if you linked directly to this page



Postcard of the Month is created by John R. Prentice © Copyright 2014