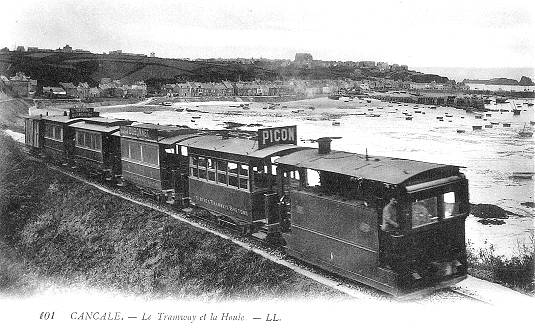 St. Malo Steam Tram. Cancale
This postcard from Lévy Fils et Cie, of 44 Rue Letellier, Paris shows a steam tram of the St. Malo tramway at nearby Cancale. Below are smaller views of St. Malo. The first is also from Lévy Fils and shows the tram terminus in St. Malo with a long "train". The ornate building in the background is the Casino. The second view is an extract from an "Aqua-Photo" card by Léopold Verger & Cie. of Paris and shows one of the smaller steam trams used. All three views are taken around 1905.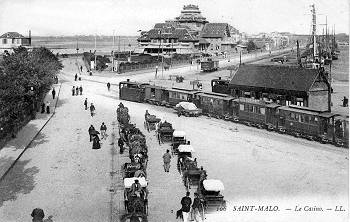 In addition to its rolling bridge (see Postcard), St. Malo had a small network of steam trams. On 1st August 1888 the Société des Tramways Bretons was formed with the idea of operating steam trams on metre gauge. An 8km urban section served St. Malo, Rocabey and Paramé and Rocabey to St. Servan. There were also 16.6 km of more rural routes serving Paramé, Terrelabouët and Cancale. The first tram ran on 25th July 1889. In addition St. Malo was connected to Rennes by a 78km line, part of the much larger network of the Compagnie des Tramways à Vapeur de l'Ille et Vilaine.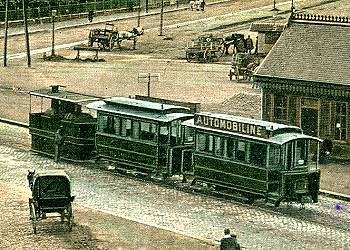 In early days motive power was six 0-4-0 tram locos from Carels (left) and six more powerful 0-6-0 tram locos from Turbize as in our main postcard. Three engines of the Turbize type from Franco Belge were later added. Finally an 0-6-0 loco from Turbize and three from Corpet Louvet were hired from the l'Ille et Vilaine tramway. All the locos were named after local places.
From 1906 for about a year until 5th June 1907, St. Malo had one of the earliest experimental trolleybuses.

In 1927 the urban section was electrified using twelve fully enclosed single-deck cars built by Constructions Électriques de France. There were also 18 trailers, these being trams retained from steam days. This was one of the last tramways in France to be electrified, and at a time when other systems were considering abandonment. Electric services were gradually replaced by trolleybuses from 10th July 1948, which in turn were replaced by motor buses in 1959. On the rest of the network the steam was replaced by petrol traction in 1925 and diesel in 1934. Trams were withdrawn from 1947 with the final tram running on 3rd October 1949.


Go to Postcard Of The Month Index




Reload Home if you linked directly to this page



Postcard of the Month is created by John R. Prentice © Copyright 2013