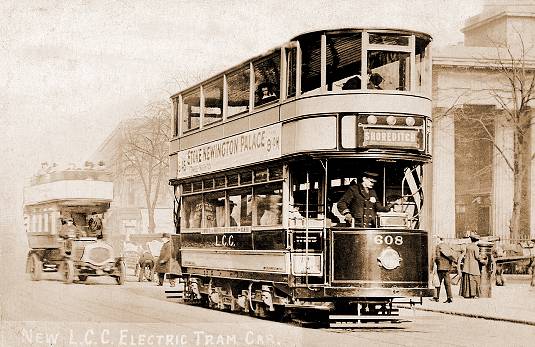 London County Council Tramways Car 608 at West Hackney Church
Our real photographic postcard from an unknown publisher shows London County Council Tramways E class car 608 heading for Shoreditch having come from Stamford Hill. It is standing in Stoke Newington Road next to West Hackney Church. The caption reads "New L.C.C. Electric Tram Car" and the photograph was taken early in 1907, the route having opened on 6th February. In handwriting on the back of our card it says, "These cars run all night every half hour so there is no fear of losing the last one home". Behind the tram is an early motor bus, another relatively new form of transport having been introduced here in 1906. The church was destroyed in the bombing in 1940. A modern building (now called St. Paul's church) stands in its place.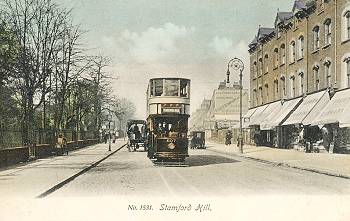 In the smaller view left we see sister tram 607. This is a few hundred yards to the north of our main view and is looking north from Stoke Newington High Street towards Stamford Hill. The entrance of Stoke Newington railway station (former Great Eastern Railway) is on the right behind the tram. This is from postcard no. 1531 from publisher Gordon Smith, our copy being posted in August 1914.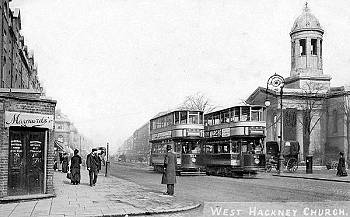 The small view right shows the same location outside West Hackney Church. It has two LCC E class electric cars, 614 and 611. All these E class cars were from a batch of 150 built by Hurst Nelson & Co. Ltd. of Motherwell, and delivered from 1906. They had 76 seats, 30 on the lower deck on longitudinal benches and 46 on the upper deck, mostly on two by two seats. They were on Mountain & Gibson maximum traction bogies, each car having two 35hp British Westinghouse type 200 motors and Westinghouse T2A controllers.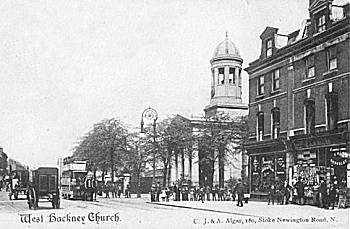 Our final view left is again at West Hackney Church but is a few years earlier. A horse tram of the North Metropolitan Tramways can be seen. The tramway was electrified and re-opened for service on 5th February 1907.
About a mile south on this route is Kingsland Road where at the suggestion of Stoke Newington Borough Council the tramway between Basing Place and Bentley Road was experimentally laid using the side slot conduit system, similar to that used in Bournemouth. One running rail also incorporated the slot for the conduit. The E class cars used here had to have a modified plough carrier to allow the plough to move from side to centre. In 1911 LCC reported that while it was cheaper to install, the side slot system caused increased maintenance costs (up to four times higher than normal) due to the slot gap increasing with flange wear, particularly at curves, a difference in height occurring between the two sides of the conduit due to the wheel treads wearing only one side, and greater wear on the ploughs causing more breakages. The special system also prevented through running with trams owned by the Metropolitan Electric Tramways. It was decided in 1916 that the track would be replaced by standard conduit but with supply difficulties due to the Great War, this did not actually take place until 1921.
Trams on this road were replaced by trolleybuses in 1939, which in turn were replaced by motor buses in 1961.


Go to Postcard Of The Month Index




Reload Home if you linked directly to this page



Postcard of the Month is created by John R. Prentice © Copyright 2013