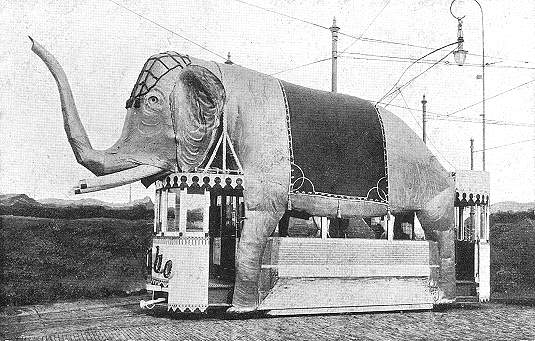 The Hague, Decorated Cars of 1908
Tramways in The Hague (Den Haag, 's-Gravenhage) in the Netherlands began on 25th June 1864 with horse cars, and with subsequent routes being operated by a number of companies. Between 1890 and 1904 accumulator trams were run to Scheveningen and between 1887 and 1924 steam trams ran to Delft. From 1887 trams came under the control of Haagsche Tramweg Maatschappij, HTM, under whose initials the tramways still operate today. From 1904 onwards HTM began conversion to electric trams, the last horse car running on 4th March 1907.
In 1908 a number of trams (at least twelve based on photographic evidence), were decorated to celebrate the 10th anniversary of Queen Wilhelmina's accession to the throne, and were in a competition at Scheveningen, where the postcard views were taken. In June 1911 "Tramway & Railway World" rather subtly criticized the British efforts at decoration in connection with the Coronation of King George V, by praising and showing photographs of the decorated cars that had run in The Hague.
Our main postcard shows one of the more extravagant of these trams, De Olifant - the elephant. This card was published by Van Markens Drukkerij-Vennootschap of Delft. Below are other postcards from the event. De Tempel is from Emrik en Binger of Haarlem, the Chineesche Tempel is from Weenenk & Snel of Den Haag and the rest are from Van Markens.

De Tempel
Indian style temple


Chineesche Tempel
Chinese style temple


De Locomotief
Loco crossing a bridge


De Grot
Grotto


De Kinderwagen der Toekomst
The pram of the future


De Winter
Snow, snowman and Christmas trees


De Salonwagon
Saloon car


De Salonwagon met Aanhangwagen
Saloon car and trailer


De Zigeunerwagon
Gypsy Caravan
Due to the highly elaborate decoration, it is hard to tell exactly which cars were used, but they were probably from the 130 three-window 4-wheel trams numbered in the range 21 to 150 and built 1905-7 by Werkspoor (Nederlandsche Fabriek Werktuigen en Spoormaterieel), or the 18 very similar cars, 151 to 168 of 1907-8 from the same manufacturer of which one, 164, has been preserved by HTM. All were on standard gauge 1.8 metre wheelbase trucks, the first 80 having electrical equipment from AEG (Allgemeine Elektricitäts Gesellschaft) and the remainder from Seimens-Schuckert Werke, both of Berlin. They seated 20 on longitudinal seats with room for 31 standing.
The open sided trailer is from either the series 416 to 422 (renumbered 500 to 506) from Allan & Co. of Rotterdam in 1905 or 507 to 526 from Werkspoor in 1907. These 12.33 metre long vehicles were on 5.38 metre wheelbase radial truck assemblies and seated 36 passengers with a further 43 standing.


Go to Postcard Of The Month Index




Reload Home if you linked directly to this page



Postcard of the Month is created by John R. Prentice © Copyright 2012