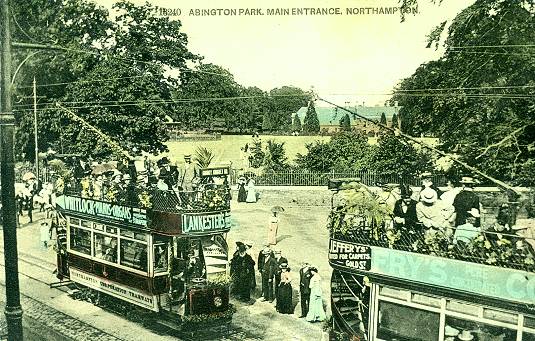 Northampton Corporation Tramways Car 16, Abington Park
This postcard, number 16240 from publisher Blum and Degen Ltd., shows Northampton Corporation Tramways car 16 with another tram at the main entrance to Abington Park, the tramway terminus. Our copy was posted on 22nd June 1906, but the view dates from a little earlier. The trams have slight decoration for a special occasion, although it is later than the opening of the route.
The Northampton Street Tramways Company began life on 4th June 1881 as a 3ft 6in gauge horse tram system which grew to four routes connecting the town centre with Kingsley Park (1881), Kingsthorpe (1883), St. James (1884) and Abington Park (1893), a total of just over five miles. At their peak they operated around thirty trams, mostly double-deck. Early experiments around 1883 included a town-gas/air internal combustion engine locomotive and a pedal powered tram. On 21st October 1901 Northampton Corporation took over the tramways and soon set about rebuilding and electrification of the existing routes to the same gauge, adding short terminus extensions. The first electric cars ran on 21st July 1904 with all routes rapidly converted. A fifth route replacing a horse bus service to Far Cotton was added in 1914, bringing the total route length to just under six and a half miles. The depot was at St. James.
Car 16 was one of the initial 1904 batch of 20 standard Preston open-top cars from the Electric Railway & Tramway Carriage Works Ltd. They seated 22 on the lower deck and 24 on the upper. They were mounted on Brill 21E 4-wheel trucks, each with two Dick, Kerr DK25B 27 horsepower motors controlled by Dick, Kerr DB1 Form C controllers. Six similar open-top cars from ER&TCW and their successor UEC were later added, as were seven balcony cars from Brush and four single-deckers from English Electric bringing the total fleet in 1921 to 37 trams. Seven of the open cars were fitted with top covers in the mid 1920s. The livery (unlike the postcard) was vermillion and white.
During World War I the tramways suffered the usual wear and tear with little maintenance. From 1922 the corporation began operating motor bus services and at the end of the decade commenced replacing the trams by buses. The last tram ran on 15 December 1934.


Go to Postcard Of The Month Index




Reload Home if you linked directly to this page



Postcard of the Month is created by John R. Prentice © Copyright 2012