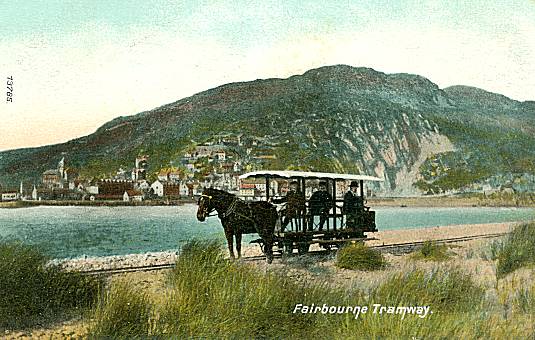 Fairbourne Horse Tramway, Penrhyn Point
Our postcard, which dates from around 1905, is number 13785 in the Wrench Series and depicts the Fairbourne Horse tramway close to the ferry at Penrhyn Point, a spit of land on the Mawddach estuary in Gwynedd, North Wales. The smaller view below is an extract from a postcard by an unknown publisher and is at the same location and date. The final view is also from an unknown publisher and is at the other end of the line about 1910.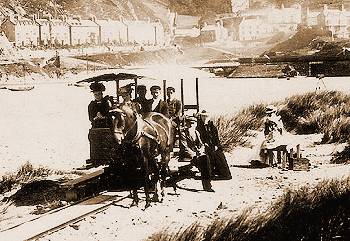 In the late 19th century Arthur McDougall, better known for his self-raising flour, was concerned with building houses at the new seaside holiday resort of Fairbourne, which had long been connected by ferry to Barmouth, an existing and successful resort on the north bank of the river Mawddach. Initially he built a single-track 2ft gauge railway to carry bricks and building materials from a brickworks that he had set up just north of Fairbourne railway station on the Cambrian Railway and from the station itself, to the new housing development on the coast. Once building was complete, probably around 1890, he opened a horse tramway service over the line to give passenger access to his new dwellings.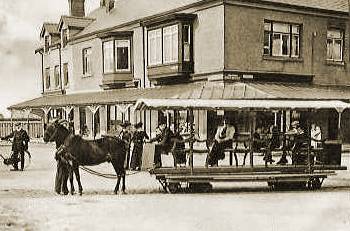 The tramway was about two miles long. It ran about half a mile along Beach Road from the station to the sea and then northwards on the shifting sand dunes to Penrhyn Point and the ferry. There were two small 2ft gauge single deck open-sided horse trams. Note how the horse is harnessed so that it walks to the side of the track (landward side) instead of between the rails, probably easier for the horse with sleeper track laid on sand. In 1912 McDougall sold his interests in the area to the Fairbourne Estate Company who continued to operate the tramway for a few years. The line closed at about the time of the Great War.
In 1916 the then derelict line was bought by Wenman Joseph Bassett-Lowke who rebuilt it as a 15" gauge miniature railway with main line railway outline steam trains. This ran until 1940. It changed hands and reopened in 1947. Changing hands again in 1984 it was rebuilt to 12¼" gauge and has since operated with half size replicas of narrow gauge railway locos.


Go to Postcard Of The Month Index




Reload Home if you linked directly to this page



Postcard of the Month is created by John R. Prentice © Copyright 2012