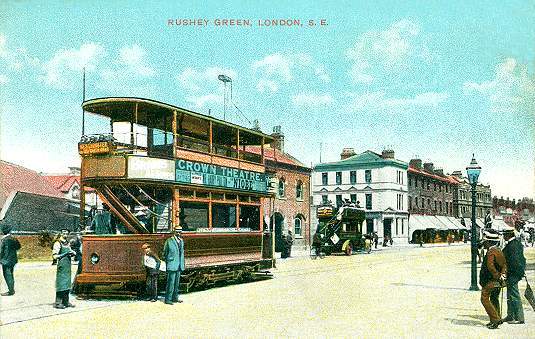 London County Council Class C Car, Rushey Green
This view is of Rushey Green near Catford, South London in 1906. The tram is a class C of the London County Council Tramways. The postcard was printed in Bavaria, being published by Gottschalk, Dreyfuss and Davis in their "Star" series. It is in the very earliest days of the electrification of this route, with the tram being operated to Westminster via Walworth Road. The previous horse tramway had also terminated here, with the entrance to the horse tram depot being at the point where the two gentlemen on the right of the photograph are standing.
The tram on our postcard is one of a hundred class C cars, numbered 202-301, supplied by British Westinghouse in 1904. The bodies were built by the Brush Electrical & Engineering Co. Ltd. of Loughborough, seating 22 on the lower deck and 34 on the upper. They had Brill 21E 6ft 6in wheelbase trucks with two Westinghouse type 200 30 horsepower motors, and used Westinghouse 90M controllers. A plough carrier was fitted between the axles in the centre of the truck. As delivered the trams were open-top, but top covers were fitted to the class from 1905 onwards. This form with open balconies and retaining the reversed stairs as on our postcard was known as class C1. Eventually they had fully enclosed upper decks and the reversed stairs were replaced by direct stairs from 1906, giving a better driver's view and allowing the police restriction of a top speed of 12 m.p.h. to be raised to 16 m.p.h. The trams were painted in the L.C.C. livery of purple lake and cream (primrose).
The standard gauge horse tramway here was originally built by the South Eastern Metropolitan Tramways Company in 1890, opening on 11th October that year. Horses for the operation were provided by Thomas Tilling & Co. Ltd. at 5½d per car mile and Tilling also agreed not to use their horse buses to compete with the trams. In 1902 the horse tramway passed into the ownership of the London County Council who electrified the route, with electric trams beginning at Rushey Green on 10th June 1906. As Thomas Tilling no longer had a financial interest in the supply of horses, they commenced a five-minute headway motor bus service from Peckham to Catford via Lewisham. The bus in the centre of our postcard is probably one of these. Over the years there were many changes of tram route using this road, but in 1933 the tramway passed into the hands of London Transport who replaced trams with motor buses on 5th January 1952.

Go to Postcard Of The Month Index




Reload Home if you linked directly to this page



Postcard of the Month is created by John R. Prentice © Copyright 2012