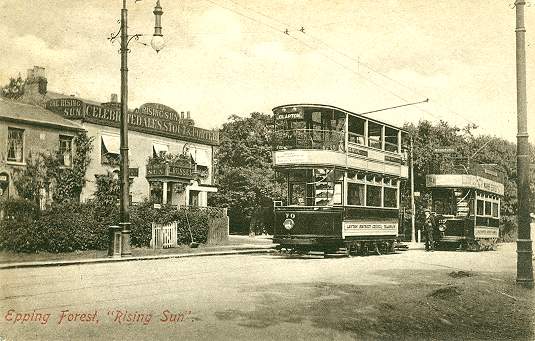 Leyton Urban District Council Car 70, Epping Forest - "Rising Sun"
From Francis Frith and Company Limited of Reigate we get this postcard, their number 58255 produced in 1907, our copy being posted in 1910. It shows Leyton tram 70 at the terminus outside the "Rising Sun" public house, about to depart to Clapton. Although only two years older, the dated looking tram behind is Walthamstow car 27, which was bound for Woodford and would leave in the opposite direction. The Leyton and Walthamstow tracks met end on here, but were not connected until 1931.
Leyton is in East London. From 1883 the Lea Bridge, Leyton & Walthamstow Tramways Company (under several ownerships) had operated horse trams on standard gauge routes using Lea Bridge Road and High Road Leyton. Similarly the North Metropolitan Company had operated horse trams in the borough from Stratford on the Leytonstone High Road since 1874. Leyton Urban District Council (Leyton Corporation after 1926) took over these two tramways' routes in 1905 and 1906 respectively, with a view to electrification. After operating for a while with horse cars, the first council electric tram ran on 27th November 1906. Three miles of new route had been added to the six miles of converted horse track, giving initial electric routes from Clapton (Lea Bridge) to "Rising Sun", "Bakers Arms" to Wanstead Flats, Clapton (Lea Bridge) to Bow Bridge via Whipps Cross and "Green Man" Leytonstone to Bow Bridge. The latter two routes were operated jointly with neighbours West Ham Corporation from the outset and from early days there began joint workings with Walthamstow and the London County Council. The depot was in Lea Bridge Road.
As the last London tramway to be electrified, Leyton was able to benefit by starting with enclosed trams. Car 70 on our card was delivered in 1907 from G. C. Milnes, Voss & Company Ltd. of Cleveland Street, Birkenhead, and was the last of a batch of twenty trams numbered 51-70 (1-10 were ex Lea Bridge horse trams, 11-50 were similar electric cars ordered for the opening in 1906). They were 4-wheel, covered-top, open-balcony cars seating 56 (22 in the lower saloon, 26 in the upper and 5 on each balcony). They had 8ft 6in wheelbase Mountain & Gibson radial trucks, each with two Westinghouse 200 35-horsepower motors and used Westinghouse 90M controllers. In 1909 all the batch was fitted with plough carriers for operating over L.C.C. conduit tracks. The livery was Brunswick green and primrose, with green trucks. Lettering was in gold, shaded blue.
After the rigours of the Great War, the tramway was in a poor state and the Leyton Council were having problems in continuing their joint operations. After some discussion, in 1921 it was agreed that for ten years the LCC would take over the management, maintenance and operation of the tramway and its fleet but that Leyton would retain ownership and would relay the track. LCC put 20 E/1 class trams on the through services to London and re-trucked 6 Leyton cars with Brill 21E trucks from scrapped B class cars, later supplying a number of M class cars as the Leyton cars were withdrawn and scrapped. In 1931 the agreement was extended for a further 25 years and Leyton bought 50 new trams of the L.C.C. E/3 design to operate the tramway.
Together with the other London tramways, in 1933 London Transport took over ownership of the Leyton system. Between 1936 and 1939 the trams in the borough were replaced by trolleybuses. The last trams to run in Leyton were on 5th November 1939, being on route 61 from Leyton "Bakers Arms" to Aldgate via Whipps Cross and Stratford, this then becoming trolleybus route 661. The trolleybuses in Leyton were replaced by motor buses at the early stages of conversion in 1959 and 1960.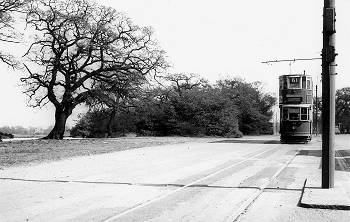 Originally single track with passing loops, the tracks in Whipps Cross Road became particularly interesting when doubled after 1922 and made reserved, rare in London and unusual anywhere at this time. Looking southwards (as in this 1938 photo with E/3 189 from W.A.Camwell - left), to the right of the tramway was the road and to the left a bridle path. The tracks ran south-east to north-west from the "Green Man" at the junction with Leytonstone High Road to Whipps Cross at the junction with Lea Bridge Road. They were partly on land which is a strip of Epping Forest, owned by the City Corporation, and since Leyton had to pay an annual rent of £1 per traction pole, some single bracket arms were used to reduce the cost. It would have been one of the fastest tracks in London, particularly after the introduction of the E/3s in 1931. The southern extremity at the "Green Man" end was at first interlaced track but later was doubled. Later still in trolleybus days a roundabout was established here to provide a turning circle. Today this location is still known as "Green Man Roundabout" on traffic signs, although it is now a giant flyover junction with the A12 (M11 link road) and the "Green Man" pub has been renamed several times. You can still just trace the site of the reserved track in Whipps Cross Road, but with time and road alterations it is becoming increasingly difficult.


Go to Postcard Of The Month Index




Reload Home if you linked directly to this page



Postcard of the Month is created by John R. Prentice © Copyright 2011