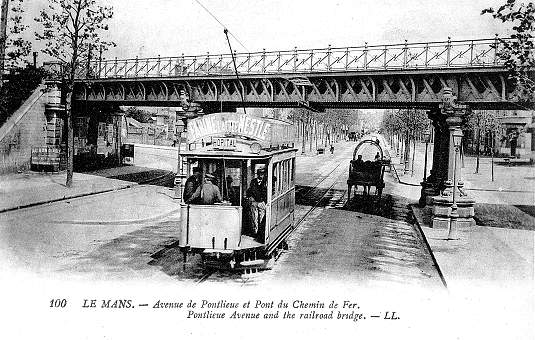 Le Mans, Avenue de Pontlieue
This postcard of around 1905 from Lévy Fils et Cie, of 44 Rue Letellier, Paris, shows one of the electric trams in Le Mans, France. It is on route 3 in the Avenue de Pontlieue heading from Pontlieue towards Hôpital and is about to pass under the bridge of the main line "L'Ouest" railway company. The smaller view below, also from around 1905, is from a postcard published by J. Bouveret of Le Mans and shows the "X" bridge looking north towards the Du Pré district. The caption of this card is in both French and Manceau (also known as Sartois), the local dialect, and on the address side we are warned that some foreign countries do not allow text on postcards. The final small view is an extract from a Lévy Fils card of the same date and shows a tram about to cross the "X" bridge having just passed through the road tunnel.
Better known for its motor racing, a decree of 9th December 1896 granted the rights of operation of tramways in Le Mans to Monsieur Ennemond Faye, a Paris financier, who in 1900 passed these rights together with those he also held for the tramways in Rennes, to the Compagnie de l'Ouest Electrique. Wasting no time, three metre-gauge routes of single track with passing loops totalling 11.2 km opened on 21st June 1897. They were 1 - Gare to Maillets via Place de la République, 2 - Cimetière to Léon-Bollée and 3 - Hôpital to Pontlieue via Place de la République.
In addition to the electric tramway, Le Mans was also the centre of a network of over 400km of metre-gauge regional steam tramways with over 40 steam tram locomotives (mostly 0-6-0 from Turbize), operated by the Compagnie des Tramways de la Sarthe and owned by Carel et Fourché. These lines had opened from 1882, diesel was introduced from 1933 and they closed in 1947.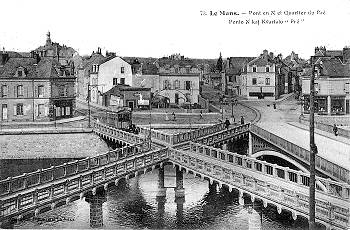 Electric route 2 had a short section in a road tunnel (below right), which still exists, under the old town and also crossed the curious "X" bridge (left). This unusual bridge, built in 1898 next to the Pont Yssoir, carried the town electric tramway over the River Sarthe. Crossing at right angles was the track of the steam line of the Tramways de la Sarthe going to Saint Jean d'Assé and Ballon. Due to lack of traffic, in 1914 route 2 from Léon-Bollée was diverted via Place de la République to terminate with route 1 at the railway station, and the section to Cimetière via the tunnel and bridge was abandoned.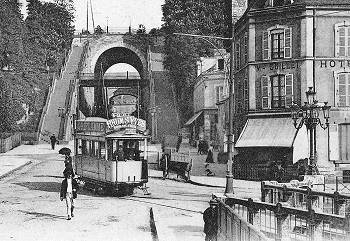 The original trams were 22 open-platform cars on 4-wheel Taylor trucks as seen in our postcards. In addition there were 12 trailer cars for use in busy times on the Pontlieue route. In 1931 six enclosed cars from Carel et Fourché on Brill trucks with 30 horsepower motors and air brakes were added to the fleet, also for the Pontlieue route, but in 1936 as they were surplus to requirements two were sold to Angers and four transferred to Rennes.
In 1936 trams were removed from the Pontlieue route and replaced by Renault ZP buses running on Gazogene (gas produced on board from wood charcoal). These in turn were replaced by trolleybuses in 1944. The remaining two tram routes were converted to trolleybuses in 1947, with the last tram running on 12th November. The fleet of 16 Vetra trolleybuses were themselves withdrawn in May 1969. Trams returned to Le Mans in November 2007 with the opening of a modern standard-gauge tramway, which partly covers the original route 3. After a gap of 71 years, trams can once again be seen at the location of our postcard.


Go to Postcard Of The Month Index




Reload Home if you linked directly to this page



Postcard of the Month is created by John R. Prentice © Copyright 2011