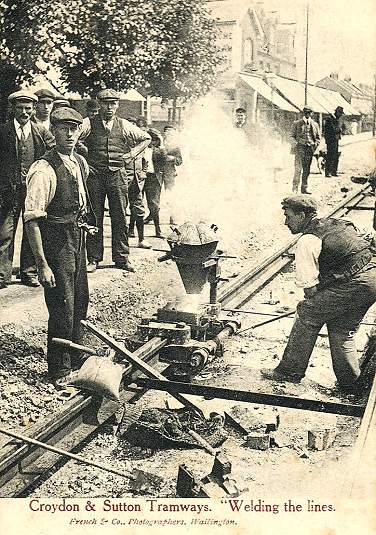 South Metropolitan, Thermit Welding
This interesting postcard, dating from mid-1906, was published by French & Co., Photographers, of Wallington, which is near Croydon in what is now called Greater London. Its caption says "Croydon & Sutton Tramways, Welding the lines". Our example was posted from Carshalton, Surrey on 4th February 1907. The location of the view is Carshalton Road, Sutton. The smaller view below from a similar source is a few yards away on the same occasion. The diagram is based Goldschmidt's British Patent of 1899.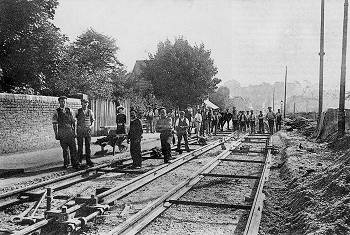 The South Metropolitan Electric Tramways and Lighting Co. Ltd. (SouthMet) was constructing this section of track during the summer of 1906. It was inspected by the Board of Trade on 10th November 1906, opening for traffic from Croydon to Sutton the following day. A final short section in Sutton town opened on 21st December.
The Thermit (or Thermite) welding system was conceived around 1895 by chemist Dr Hans Goldschmidt of Essen in the Ruhr, Germany and it is thought was first used to weld tram rail joints on the Essen system in 1899. The welding is based on the extremely exothermic reaction that occurs when powdered aluminium mixed with iron oxide is ignited. This quickly produces a high temperature of 5000 - 6000°F (approx. 2760 - 3316°C) and the reaction reduces the iron oxide to iron metal which remains molten down to about 2800°F (1530°C).
The formula for this reaction is:-
2Al + Fe2O3 = 2Fe + Al2O3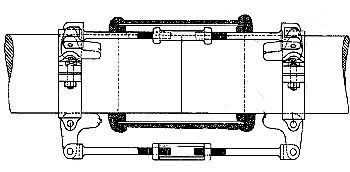 The rails of laid track are joined in situ by using a special clamp (seen in the photographs and in the diagram left) to force the rail ends into close contact and at the correct alignment. A sand box mould, sometimes, surrounds the joint. The rail head and groove are protected by being smeared with clay. The rail ends and mould are then pre-heated with blow lamps to remove any water. The chemical mixture is placed into a crucible above the joint and a small part is heated to about 2000°F (1093°C) to start the reaction by using a magnesium based ignition powder lit with a match. Pure molten iron runs down into the mould, leaving aluminium slag floating on top. Once the iron has become solid the clamp is removed, the mould and slag knocked away, while still hot surplus metal can be hammered flat and finally the head and groove ground smooth. Thermit welding is still in use today for tramway track joints.
In 1933 the SouthMet system passed to London Transport, who on 8th December 1935 replaced the Sutton tram route by trolleybuses and then at the first stage of trolleybus replacement on 3rd March 1959 by RT type motor buses. Sutton has been a frequently suggested target for an extension of the modern Croydon Tramlink.


Go to Postcard Of The Month Index




Reload Home if you linked directly to this page



Postcard of the Month is created by John R. Prentice © Copyright 2011