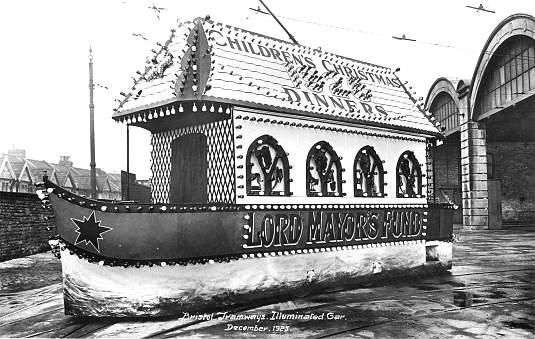 Bristol Tramways & Carriage Company, Decorated Tramcar 39
Our postcard from an unnamed local publisher shows Bristol decorated tram 39 used in December 1925 to support the Lord Mayor's Fund. This was the most ambitious of Bristol's decorated trams and represented Noah's Ark. Our card was posted on 3rd March 1926 to an address in Brecon. The tram is standing in the yard outside Brislington depot. It had 1,124 light bulbs which used 77 amps of electric current (38.5 kilowatts). £1,077-17s-0d was collected. The smaller views below are from the same card publisher and show the trams used in other years.
Following on from the horse tramways opened in 1875, the first electric trams in Bristol ran on 14th October 1895. The system expanded to some 31 route miles by 1908 operated by 237 trams, all open-top double-deck.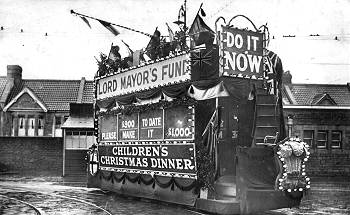 At Christmas for six years from 1922 to 1927, trams were decorated for the Lord Mayor's fund to provide Christmas dinners for poor children. In 1922 the first was car 17 (left). This was a fairly simple decoration with 525 electric light bulbs. The slogan in the side windows says "£900 to date - please make it £1,000". In fact they collected £1,171-16s-1d. A little later the slogan was changed to "Only a few days left". Every year the trams were driven on tour around the city by Alfred Thatcher, who dressed up as Father Christmas. He can be seen at the controls in the 1924 and 1927 views (below).
In 1923, car 2 was used to a similar construction but with pictures of Christmas puddings on the upper deck side panels. It had 706 bulbs which took a total of 54 amps (26.9 kilowatts). £1,212-11s-3d was collected. In 1924 car 176 was made to look like a castle, but retained the Christmas puddings. It had 1,279 bulbs with around four miles of electrical wiring. In 1926 it was a general decoration and in 1927 there were pictures of wild animals on the sides, the numbers and details of the cars in these two years not being known. After Christmas the cars were rebuilt back to their working condition. All the decoration was done in the workshops at Brislington depot, with the staff undertaking the work in their own time.
The tram in our main picture was one of a batch of 85 standard gauge cars built by George F. Milnes & Co. Ltd. in 1900/1 with 24 seats inside and 29 on top. They were mounted on Peckham Cantilever 4-wheel trucks having two 28 horse-power GE 58-6T motors and BTH B3 controllers. The other decorated cars were also from this batch except for 176 which was one of thirty built by the Midland Railway Carriage & Wagon Co. Ltd. at the same date and to the same specification. The normal livery was ultramarine blue and cream.

From 1938 trams began to be replaced by buses. On the 11th April 1941, a German bombing raid damaged Brislington depot and demolished St. Philips Bridge, cutting the power supply cables from the generating station and the tramway was closed.
Our thanks go to Peter Davey of Bristol for providing additional details of these tramcars.
More special trams from other systems can be seen in our Decorated Tramcars section.

Go to Postcard Of The Month Index




Reload Home if you linked directly to this page



Postcard of the Month is created by John R. Prentice © Copyright 2010