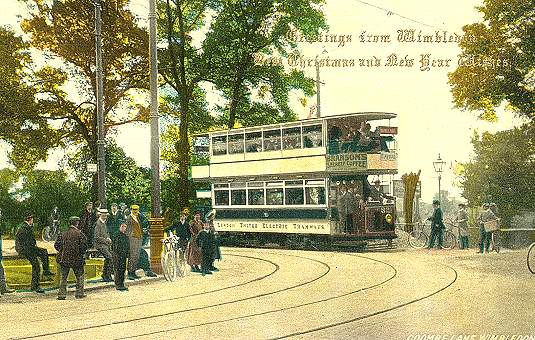 London United Tramways Car 321, Raynes Park
This postcard in "The Mercury Series" offers us "Greetings from Wimbledon. Best Christmas and New Year Wishes", in a gold overprint. In fact the photograph was taken on 23rd May 1906 and is in Coombe Lane at the junction with West Barnes Lane close to Raynes Park railway station. It shows London United Tramways (LUT) car 321 on the Board of Trade inspection of the line prior to opening. The tram was carrying the BoT inspector, Lt. Col. Yorke and Sir James Clifton Robinson, the Managing Director of the Imperial Tramways Co., the owner of the LUT.
Wasting no time after the opening on 1st May 1906 of the Kingston routes (see Postcard), on 14th May a trial led by a water car, took place on the remaining routes south of the Thames running as far as Raynes Park Station. As stated above the official BoT inspection took place on 23rd May. It ran from the centre of Kingston along Richmond Road to the Richmond boundary by Ham Common. From Richmond Road there was a branch along King's Road to Richmond Park. From London Road a line went via Cambridge Road to Kingston Road at the junction of Malden Road near the Norbiton Park Hotel (later renamed "The Fountain"). From there it continued through Burlington Road, West Barnes Lane and Coombe Lane to Raynes Park Station. Lt. Col. Yorke was somewhat critical of the single track under the London & South Western Railway's bridge in Kingston Road which was narrow and only had a footpath on one side. All the lines opened immediately and without fuss except the final section from Norbiton Park Hotel to Raynes Park which did not open until 27th April 1907, with Wimbledon itself being reached on 2nd May.
Car 321 was one of a batch of 40 open-balcony cars purchased in 1905 from the newly incorporated United Electric Car Company Ltd. of Preston. They were numbered 301 to 340 and were later classified as type "T". They had Brill 22E maximum traction bogies with British Westinghouse motors and Westinghouse type 90M controllers which could operate magnetic track brakes. The livery for these cars was Venetian red and white.
This tram route was one of the first in London to be replaced by trolleybuses, as part of route 4 of the London United Tramways introduced in 1931. Taken over by London Transport in 1933, 604 as the route became was one of the last London trolleybus routes, closing on 8th May 1962.
The publisher of our postcard must have been fairly annoyed at the delayed opening of the Raynes park section. He had captured what he thought was the first tram and probably rushed out a printing of postcards, only to have to wait eleven months before a service started on Coombe Road. Perhaps this is why he had the cards overprinted to sell as Christmas cards.

Go to Postcard Of The Month Index




Reload Home if you linked directly to this page



Postcard of the Month is created by John R. Prentice © Copyright 2010